Are you looking for a natural way to support your furry friend's overall wellness? CBD, or cannabidiol, is a natural compound found in hemp plants that has been shown to have a variety of potential health benefits for dogs.
CBD is gaining popularity as a natural supplement for our four-legged friends, and many pet owners are turning to it as a way to help their dogs manage a range of conditions and symptoms. In this blog, we'll delve into five benefits of CBD for dogs that you may not have known about. Keep reading to learn more!
5 Benefits Of CBD For Dogs
From soothing thunder and fireworks anxiety to relieving chronic pain, CBD has the potential to improve your dog's life in so many ways. Below are just a few of the most significant benefits.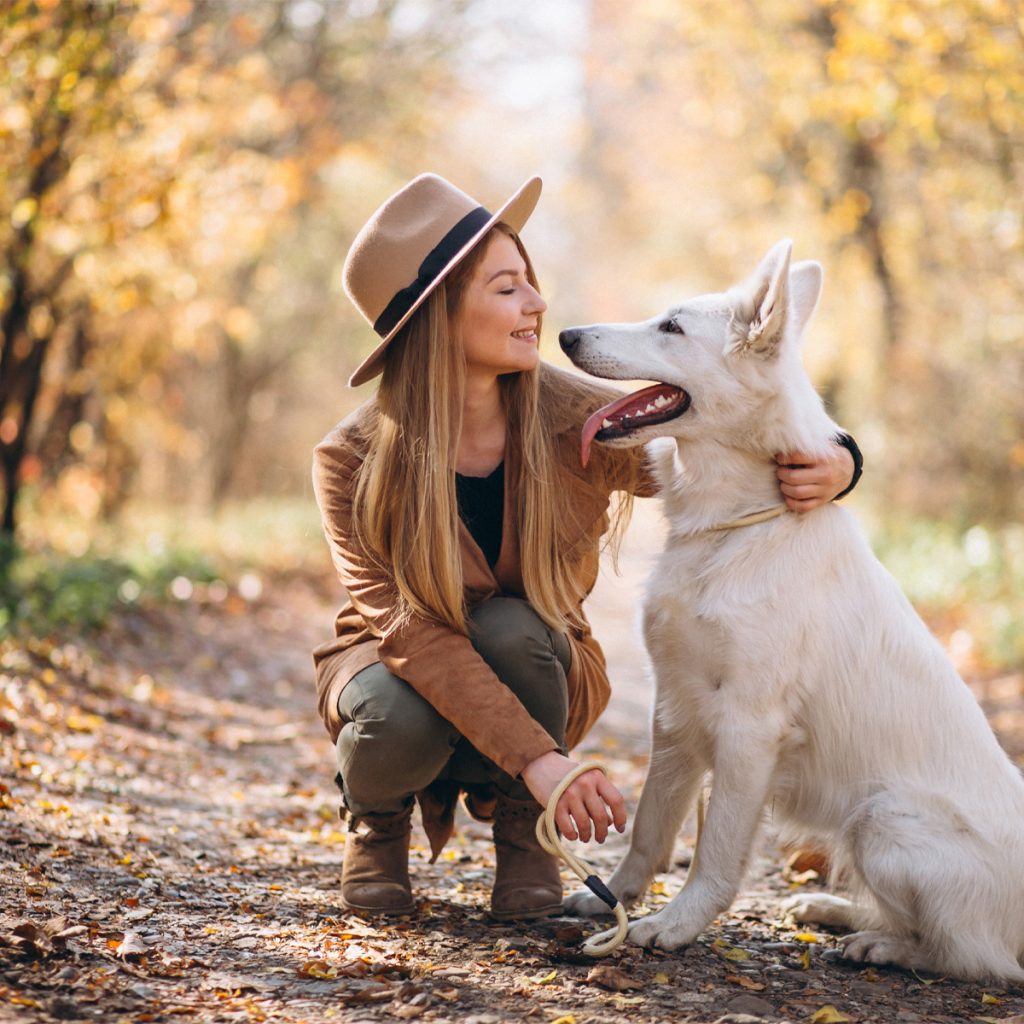 Pain management: CBD has anti-inflammatory properties that may help to reduce pain and discomfort in dogs. It may be especially helpful for dogs with chronic pain or those recovering from surgery or injury. One significant study found that CBD caused a "significant decrease in pain and increase in activity" in subjects.  
Anxiety and stress relief: CBD has been shown to have a calming effect on dogs, making it a potential option for those with anxiety or stress-related issues.  It may also help to reduce separation anxiety in dogs left alone for long periods of time and minimize aggression in shelter dogs. 
Improved sleep:

As with humans, CBD may help to improve sleep in dogs by reducing anxiety and promoting relaxation. This can be especially helpful for older dogs or those with conditions that disrupt their sleep patterns.

Heart health:

Some research suggests that CBD may have potential heart-protective effects in dogs. It may help to lower blood pressure and reduce the risk of heart disease.

Cancer-fighting properties:

While more research is needed, some studies have suggested that CBD may have potential anti-tumoral effects and may help to slow the growth of cancer cells in dogs.
Every day we learn more and more about the benefits of CBD for dogs. Right now, there are countless other studies looking at its effectiveness on a wide range of other canine conditions. Early results show that it even may be beneficial to dogs with seizure disorders and irritable bowel syndrome.
All of that said, it's important to note that CBD is not a replacement for traditional veterinary care, and you should always consult with a veterinarian before giving your dog any new supplement. This is especially important if your dog has a preexisting medical condition and is on other medications. Additionally, be sure to choose high-quality, reputable CBD products specifically formulated for pets. 
THE WINNER IS ANNOUNCED!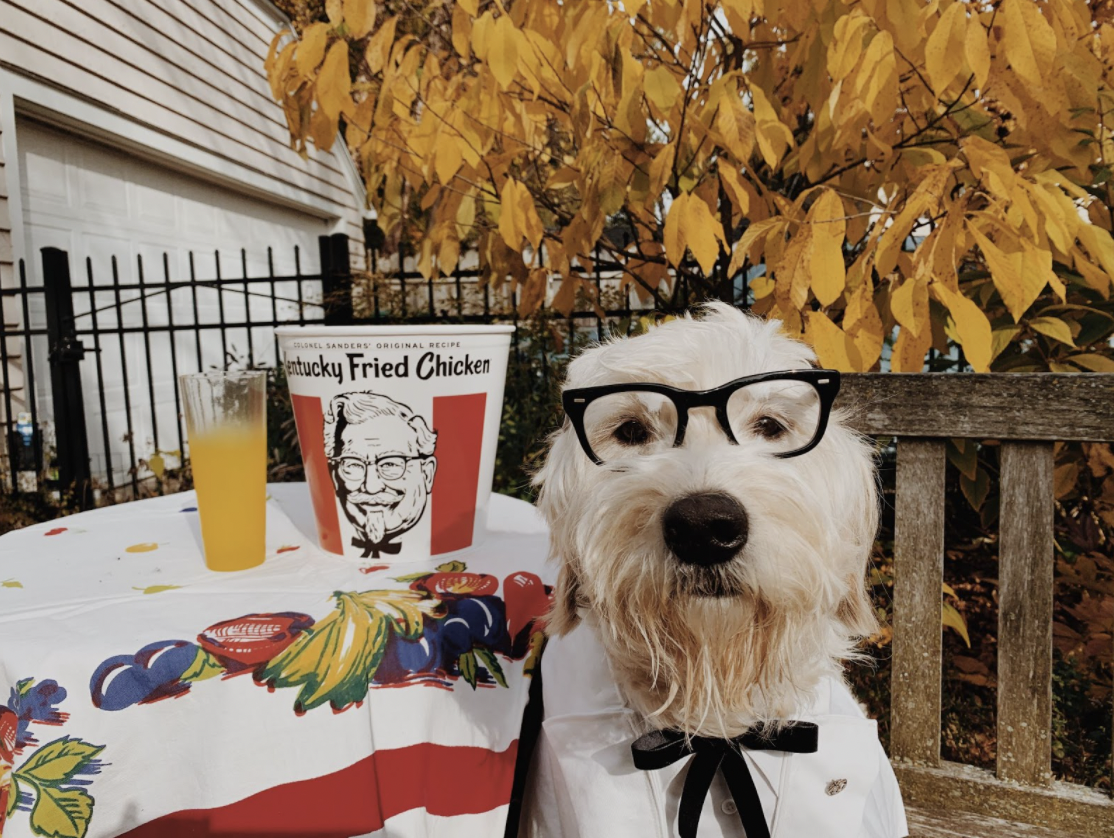 The winner of our ultimate dog photo contest is Stephanie Milanowski of Grand Rapids, Michigan and her pup, Wally! 
Wally (aka The Next Colonel Sanders) is a two-year-old mini Goldendoodle who is goofy, loveable, and "will let you fall asleep hugging him," says Stephanie. When offered a costume, Wally immediately goes into acting mode. 
Per Stephanie, "his cooperation and dedication to the art of acting are admirable! He's incredibly patient when getting dressed or sitting still. He just loves it and jumps right into character, even when he's seated next to a bucket of delicious, crispy fried chicken and a refreshing glass of lemonade!"
Wally's goatee and his expression reminded Stephanie and her husband, Joe, of Colonel Sanders, the founder of Kentucky Fried Chicken. So she stitched a little white suit coat for Wally with a string tie and lapel pin, topped with 1970's eyeglass frames. From there, Wally jumped right into character! 
Congratulations Stephanie, Wally, and family on your winning photo!
Summary
The pups are ready for their close-up! We're pet parents who believe in the healing power of dog photos in our camera roll and their ability to boost our moods. That's why Vet Naturals is thrilled to announce the launch of our first-ever Ultimate Dog Photo Contest where contestants can flaunt their funniest and most outrageous dog photos of their furry friends for a chance to win $1,000, plus a three month supply of Vet Naturals products!
What We're Looking For
We're looking for amusing, meme-worthy photos of your dog. The photo can include crazy eyes, doggy smiles, costumes, props, or funky outfits – you name it! As long as it's hilarious and sparks joy, it's eligible. 
 Either snap a new photo or send us an existing funny photo from your camera roll!
 Don't own a dog? No problem. You can still enter the contest with a photo you took with a family member's or friend's dog. 
 Additionally, applicants must be 18 years or older and a U.S. citizen or permanent resident to apply. 
How to Enter
To enter the contest, contestants MUST FOLLOW THE LINK BELOW to the entry form where you'll be asked to upload your photo. The page also requests your name and email address, so that we can notify the winner, once one has been selected.
Any contestants who do not complete the entry form by following the below link will not have an official entry into the contest. 
For contestants who have a Facebook or Instagram account, please share your dog photo with us either on the Vet Naturals Facebook page or post your photo as an Instagram post, tagging the Vet Naturals Instagram within your post. Spread the word to your social media friends and family about the contest and your entry, so that they can witness your dog's hysterical photo as well!
The deadline for contest submissions is Friday, April 9, 2021. Contestants will need to submit their dog photos via the below link by that date in order to be considered. After this date, no further entries to the contest will be permitted.
What'll You Get
The winner will be announced on Friday April 23, 2021. The winner will receive a $1,000 payment as well as a three month supply of Vet Naturals Hemp & Hips products.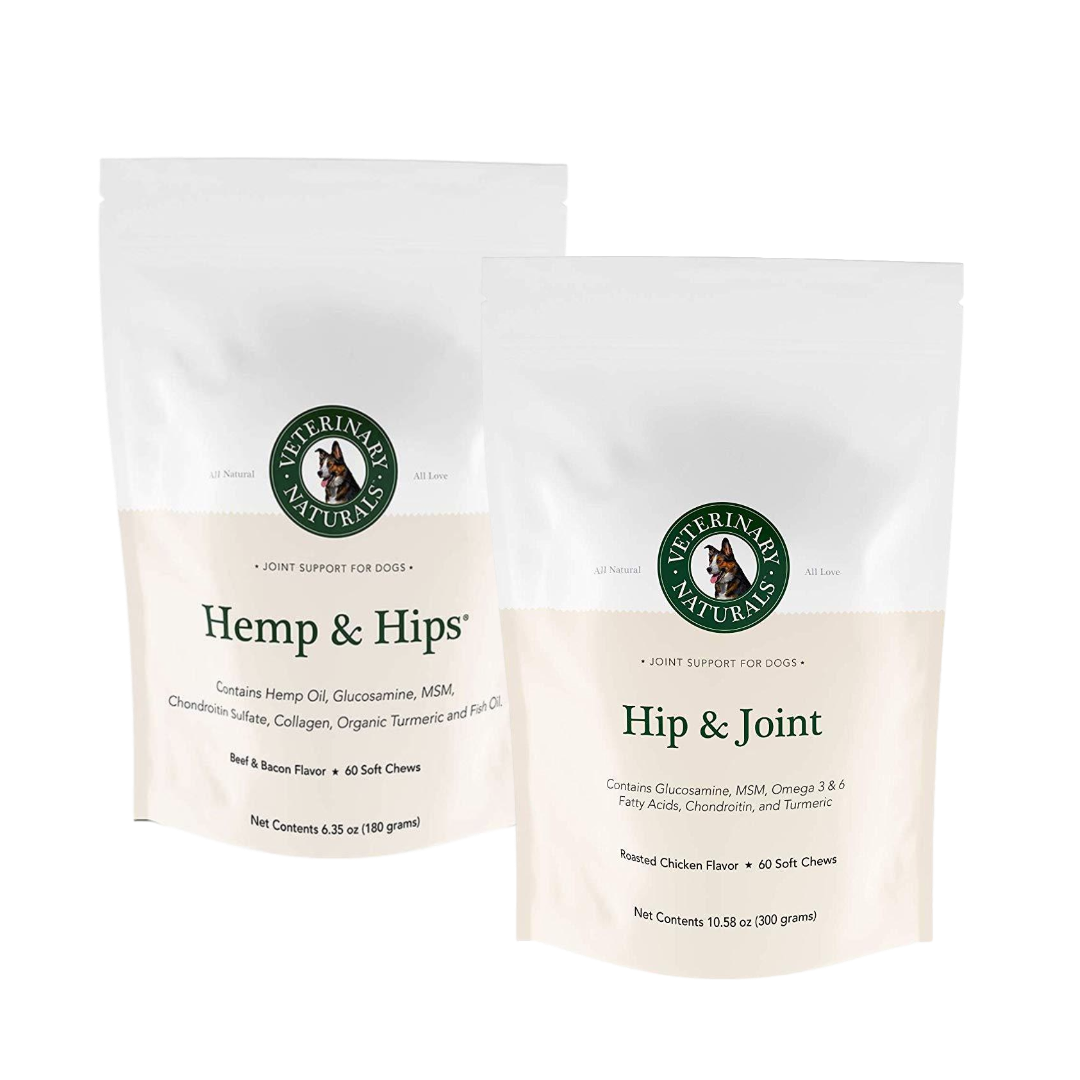 Hemp & Hips provides joint nourishment to help rebuild, support, and maintain healthy joints – even as our dog's age. This natural relief also makes sure our dog's joints are protected, keeping them healthy, flexible, and lubricated, while naturally reducing those aches and discomforts.
Contest Terms and Conditions
The rules of the competition and the prize for the winner are as follows: 
The promoter of this competition is Vet Naturals LLC whose principal office is located at

6916 E 1325 N, Huntsville, UT 84317.

Employees of Vet Naturals LLC or their family members or anyone else connected in any way with the competition or helping to set up the competition shall not be permitted to enter the competition.

Persons must be at least 18 years old, or otherwise have reached the age of majority under the laws of the state where they reside, in order to participate.

Only residents of the United States are eligible to participate.

VOID WHERE PROHIBITED.

There is NO ENTRY FEE AND NO PURCHASE NECESSARY TO ENTER THIS COMPETITION. Any purchase or consideration otherwise given by entrants will not improve one's chances of winning.

The route to entry for the competition and details of how to enter are available via www.vetnaturals.com. Individuals may enter to win by clicking on the participation link on Vet Naturals LLC's website. Upon clicking the participation link, entrants will be asked to provide their name and contact information so that Vet Naturals LLC can notify the winner of the results.

The closing date for entry will be March 26, 2021. After this date, no further entries to the competition will be permitted.

Only one winner will be selected from the entire pool of eligible entries. The selection process will be at the discretion of Vet Naturals LLC. The winner will be required to complete certain tasks designated by Vet Naturals LLC. If the winner does not follow through with the tasks required of them, they will not receive the prize of $1,000 and a three-month supply of Vet Naturals products.

The winner will be notified by email and/or letter within 15 days of the closing date. If the winner cannot be contacted or does not claim the prize within 2 days of notification, we reserve the right to withdraw the prize from the winner and pick a replacement winner.

Vet Naturals LLC will notify the winner when and where the prize can be collected.

The winner will receive a welcome package in the mail.

No cash alternative to the prize will be offered. The prize is not transferable. Prizes are subject to availability and Vet Naturals LLC reserves the right to substitute any prize with another of equivalent value without giving notice.

The winner agrees to the use of his/her name, image, and video in any publicity material. Any personal data relating to the winner or any other entrants will be used solely in accordance with current federal and state data protection legislation and will not be disclosed to a third party without the entrant's prior consent.

The winner's name will be available 28 days after the closing date by sending a stamped addressed envelope to the following address:
Vet Naturals LLC's decision in respect of all matters to do with the competition will be final and no correspondence will be entered into.
With the holidays coming up, you might be wondering how to travel during the Covid-19 pandemic to see family. And while flying has proven to be relatively safe during this time, potential travelers are considering road trips—to avoid close proximity with others. So how do you prepare for a winter road trip with your dog? Here are five tactics to take, to ensure a safe ride.
Get the Right Gear
You'll want to purchase a restraining device for your dog, to keep everyone in the car safe. (If your pup happens to walk up front or get by your feet while you're driving, you'll endanger everyone else on the road, too.)
Look for a harness, safety belt, or pet carrier, and introduce your dog to it before you leave. Smaller dogs may love booster seats which double as plush 'beds,' and feature an attachment that secures them to your car's seat belt.
Place new crates or booster seats in your home for a few days before the trip, and let your dog relax with the new items. If you have a safety harness, take a few prep rides before longer travel, and be sure to reward your dog with treats when secured in your car, so they associate all the new items with a positive experience.
Create Comfort
Even though your dog will be riding in your warm car, you may want to purchase a sweater or fleece for him to wear during travel. The mercury can drop into the single digits, and not all car heaters can keep up. You'll also need to stop to take your dog out for potty breaks and something warm can help your pup feel more comfortable for quick trips outside.
Finally, having warm items on hand is essential in case of emergency, and you need to stop for long periods of time. Be sure to place a fleece pad in crates, and have a blanket on hand for your pup. You'll want a blanket and plenty of warm items for yourself, too, and may even want to invest in a heated blanket (complete with 12-V adaptor) for long drives.
Take Breaks
Stretching tight legs can help both you and your dog. (For you, a short walk can help keep you awake. For your dog: It can help keep them calm.) Be sure to take potty breaks every two hours or so, to allow your dog to relieve himself and unwind. Park somewhere off the road (residential areas with sidewalks, hotels with dog-walking areas and parks are safe bets) and take your dog for a short walk.
It's also a good idea to offer water during this time. Be sure to bring extra bottles and a water dish for your pup.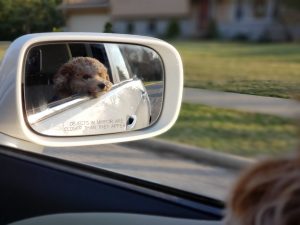 Keep Calm
Your dog may or may not experience travel anxiety, yet even so, it's always a good idea to maintain a soothing environment within your car. Your pup will not just like it, she'll want to continue on as your road-trip companion. Bring your dog's favorite toys and consider filling hollow chew items with frozen yogurt or peanut butter.
You may also want to swap your favorite metal tunes for an audiobook or soothing folk music, depending on how your dog is handling the ride.
Supplement if Needed
Some dogs are simply too nervous for travel, and in these cases, it may be kindest to leave them home with a sitter. If you need to bring an anxious pup on your travels, supplementing with a calming aid could help. Look for ingredients like L-tryptophan (which is the component in turkey that makes you feel sleepy after a Thanksgiving meal), and valerian root. Hemp & Harmony includes calming ingredients along with ginger root, which can help relieve mild nausea. As always, consult your veterinarian before administering any supplements or over-the-counter medications.
It's gifting season and many people opt to add a four-legged friend to the family. If you're getting a new puppy, however, there are several things to consider; just as there would be when bringing home a baby. Get off on the right foot—and paw—with these six tips for a healthy and rewarding first year.
Puppy-Proof the Home
Puppies are naturally mischievous creatures. It's how they learn, discover, and entertain themselves. But, to keep them—and your most prized possessions—safe, you'll likely need to take some precautions. Start by addressing each area of the home while putting yourself in your young dog's perspective. Look for potential dangers such as electrical cords and power strips, candles, space heaters, fans, and plants, placing them on higher shelves, or removing them altogether. You may consider raising or tying drapes to make them inaccessible. Window and door screens could be a hazard if your puppy scratches or bites through the barrier, so ensure your pup cannot access these areas. Some pets are even clever enough to nuzzle their way through closet or bedroom doors, so be sure to pet-proof closet interiors, too. If you're decking the halls for the holidays, consider placing a barrier around decorative items or stowing them out of reach.
Get the Right Supplies
Gathering goodies for your pet isn't only enjoyable—it's necessary. While there are plenty of products on the market that you can go without, some—even toys—are essential. First, make a stop at the collar and leash aisle and choose a cloth or nylon neck collar and clip-on leash that will fit your puppy right now. You'll likely have to upgrade to a larger size or two in the near future, depending on your pet's expected size.
Refrain from choosing prong collars, chain leashes, and retractable leashes, which can be cumbersome and uncomfortable for both you and your puppy. Slip leads are an excellent tool for training, so add this to your list as well. If your puppy is a brachycephalic or flat-nosed breed (i.e. bulldog, boxer, or Shih Tzu), you'll need a harness, which should be used in place of a traditional neck collar for leash use.
Don't forget a personalized identification tag to complete your pet's ensemble. Next, pick up a variety of toys that address different senses and urges. For instance, toys that make noise and that have different shapes and textures. Puppies love to chew, so a strong rubber chew toy is ideal to satisfy this urge, but stay away from hard toys and treats. A good rule of thumb is if you can't bend or compress it, skip it.
Next, choose a few essential grooming tools such as nail clippers, styptic powder, a brush, and gentle puppy shampoo. If your puppy will have long or thick hair, you may need a few different brushes and combs. Lastly, add a couple of stainless steel or ceramic food and water bowls to your cart before choosing a puppy food.
Choose Quality Puppy Food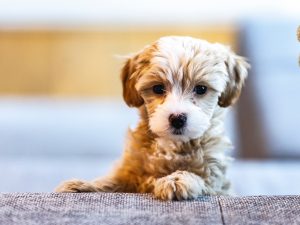 Puppy food is quite simply the most important item you'll buy for your new friend, so invest wisely. Opt for a well-researched food that utilizes high-quality ingredients and that meets the Association of American Feed Control Officials (AAFCO) standards. Many brands even offer specialized puppy foods based on size or breed. Ask your breeder or shelter staff what kind of food your pup's been eating and decide whether you want to switch to a new food. Your veterinarian can help you with this decision. If you choose a new food, you'll need to gradually transition your pup over several days to avoid digestive upset. For instance, on day 1 feed ¾ portion of the older food along with ¼ portion of the new food, the next day ½ and ½, and so on. You'll do this again at around one year of age when you transition your puppy to adult food. Be sure to grab a couple bags of bite-sized treats for puppy classes and at-home behavior training.
Visit Your Veterinarian
One of the most important steps in owning a new puppy is obtaining adequate veterinary care. Young pets require frequent health checks to ensure they are growing properly and that they are free from congenital problems. Preventive care, including immunizations and parasite prevention, are crucial components of these early vet visits—and timeliness is everything. For juvenile dogs to mount an appropriate immune response to dangerous infectious diseases like parvovirus and distemper virus, they must receive their vaccinations at particular intervals—typically beginning at 8-weeks-old and then every three to four weeks until they reach 16 weeks of age. After that, you can expect to return for the spay or neuter surgery at your veterinarian's recommendation, but this is typically done during the first year.
Other discussion topics that may come up at your veterinary visits include microchipping, dental care, and wellness and/or insurance plans. Do yourself a favor and come prepared with questions and concerns for these important appointments—this is your chance to pick the expert's brain. In the meantime, if your puppy comes down with an ear infection or an episode of vomiting, you may find yourself at the clinic more often. This is all to be expected during the first year of your dog's life, but developing good, healthy habits with your pup early may help you avoid unexpected vet visits later on.
Desensitize and Socialize
Your puppy's formative weeks are the ideal time to acclimate her to other pets, people, and routines. From about three weeks to three months of age, puppies experience their most sensitive period for socialization—one of the most important times in her life. Without adequate opportunities to meet new animals and people, she may become fearful of unfamiliar faces as she grows older. Unfortunately, this time period coincides with their most physically vulnerable period as most puppies this age are not fully vaccinated. Therefore, while you'll want to avoid dog parks and situations where it is difficult to monitor who your pet is coming into contact with, controlled group settings such as puppy classes and planned meet-ups are great ways to provide social opportunities while staying safe.
This life stage is also the best time to desensitize your puppy to new sights, sounds, and sensations. Many common canine aversions, such as a distaste for nail trims, ear cleanings, and tooth brushing can be avoided with timely conditioning. Accustom your pup to these procedures by touching her feet, toes, mouth, teeth, ears, and other potentially sensitive areas often, rewarding her along the way.
Practice Patience
Puppies are a lot of work. It's not uncommon for new puppy owners to experience bouts of frustration and anger. From housetraining to behavior training to 'round-the-clock bathroom and play breaks, caring for a puppy isn't far off from raising a baby, so allow yourself some grace during this temporary period. That being said, consistency in feeding, training, and all other aspects of your puppy's life will help her feel safe, secure, and confident, leading to a well-mannered adult dog.
Begin training early, especially if you've taken on a large or giant breed puppy who may quickly grow to become a safety hazard without proper discipline. Remain steadfast in your behavior and house-training methods and ensure all family members are on the same page regarding commands, which behaviors are tolerated, and which are not. Of course, while diligence is essential, providing unconditional love is equally important for growing puppies. Simultaneously practicing patience, affection, and discipline is no easy task, but the end result will leave you with a well-behaved lifelong companion by your side.
America's favorite, frightful holiday is just around the corner, and with it comes an abundance of treats. While most of us can appreciate sweets as a quintessential part of any Halloween celebration, pets and candy do not go paw-in-paw. If your dog accidentally indulges in any ghoulish goodies this Halloween, you may be in for a scare—and a visit to the veterinarian. Generally speaking, candy is not for pets, but certain types can be particularly harmful. Beware of these harmful foods this Halloween and any time of year, and best of all, keep them away from your pets.
Chocolate
You've likely heard this before, but dogs and chocolate do not mix. In fact, this ingredient tops the list of nightmarish foods in the veterinary world year-round, and Halloween is certainly no exception. Chocolate contains powerful chemicals known as methylxanthines that affect the nervous, cardiovascular, and respiratory systems in dogs. While people can easily digest methylxanthines, pups metabolize these compounds at a much slower rate, putting them at risk for a dangerous build-up of caffeine and theobromine—the two methylxanthines found in chocolate.
It's true that baking and dark chocolates have more concentrated levels of these chemicals, but even milk and white chocolates have the potential to cause serious harm to dogs who ingest them. Some common signs of chocolate toxicity include vomiting, increased drinking, and hyper-excitability, which may progress to incoordination, seizures, or cardiac arrhythmias. Whether by hayride or broomstick, head to your veterinarian right away if your pet exhibits any of these signs on or around Halloween.
Xylitol
Commonly found in chewing gum, toothpaste, peanut butter, and artificially-sweetened baked goods, xylitol is a popular ingredient in many products. It's also likely to lurk in a variety of Halloween candies—unbeknownst to many pet owners. Xylitol tricks a dog's body—chiefly, the pancreas—into releasing an abundance of insulin, which can cause alarmingly low blood sugar levels. High levels of the substance may even lead to irreversible liver damage.
Signs of xylitol intoxication are similar to those of chocolate poisoning, including vomiting, disorientation, tremors, and seizures, and it only takes a small amount of xylitol to cause a big problem. Even one stick of sugar-free gum can induce toxic outcomes in small dogs.
Raisins
Raisin toxicity in dogs is unfortunately common. In fact, grapes, raisins, currants, and anything else from the Vitis spp group has the potential to cause severe and acute kidney injury in dogs. And, since many popular Halloween candies, bars, and mixes contain these fruits, it can be a common problem this time of year.
The mechanism by which raisins cause kidney failure is not completely understood, but it may be related to the dog's metabolism, chemicals inside the fruit, or residues on the fruit. Signs that your dog may be experiencing grape or raisin toxicity include vomiting, diarrhea, increased drinking or urination, abdominal pain, or inappetence. Unfortunately, you can't cure raisin toxicity but, curiously, some dogs don't appear to be affected by grape or raisin ingestion at all. Until we better understand this problem, be sure to keep raisins away from your dog.
Sugar and fat
The hallmarks of Halloween candy are also what make them so appealing to us—and our dogs. Sugar and fat have an impressive impact on brain receptors that register pleasure and satisfaction, which keeps us coming back for more. But, ingesting high amounts of sugar and fat can put your pet at risk for a painful, and even sometimes fatal condition known as pancreatitis. The pancreas, an organ with both digestive and endocrine duties, can easily become overwhelmed if met with a large, rich, and fatty meal. This causes the organ to release enzymes and other inflammatory substances that end up causing harm to itself.
Signs of pancreatitis may begin shortly after consumption of rich, fatty foods but it could take up to four days before pets become ill. Keep an eye out for signs like vomiting, diarrhea, inappetence, lethargy, and abdominal pain, being sure to report any abnormalities to your veterinarian. Remember that long-term ingestion of high-fat and sugar-laden foods can also put your dog at risk for obesity and diabetes—two other common, crippling conditions that afflict our pet population.
Candy Wrappers
When was the last time you watched your pet unwrap a chocolate candy bar before devouring it? Chances are, they skipped this step and went straight for the entire bag—plastic wrappers and all. Not only are many popular Halloween candies capable of making dogs sick, but their packaging could lead to a chilling chain of events, too. While candy wrappers are unlikely to cause toxic effects after ingestion, they can bulk up in the stomach or intestines, putting your pet at risk for a dangerous obstruction that could require surgery.
Gut health and the microbiome are garnering a lot of attention lately, in both humans and animals. While still a relatively new research field, our understanding of the human microbiome is rapidly evolving, and veterinary findings aren't far behind. Evidence suggests that our dogs' unique intestinal flora influences much more than simply digestion and metabolism. Rather, these microbial environments heavily influence a plethora of other bodily processes. It's no wonder we use the term "guts" when referring to boldness or fortitude—the gut is a critical player in global pet health.
What is a microbiome?
A microbiome is a mini-ecosystem consisting of a vast range of microorganisms including fungi, viruses, protozoa, and—largely—bacteria. Each body system has its own, unique microbiota, but the intestines house the largest population of these tiny organisms, with over one trillion microbes. To put this into perspective, your pet consists of billions of cells that make up their hair, eyes, skin, bones, and well, their whole being. Yet, the population of microbes in your pet's gut still trumps this number by a factor of ten. Amazingly, no two pets have identical microbiomes, making these wildly unique communities a fascinating area of study. And, while most people can appreciate the gut microbiome's role in digestion, this tiny habitat has so many important jobs that it is sometimes referred to as the "forgotten organ." Let's take a closer look at its many functions:
● Metabolism, nutrition, and vitamin synthesis— Gut bacteria are experts at breaking down complex carbohydrates and fibers that would otherwise pass through the stool as undigested material. This process, known as fermentation, results in beneficial end-products for the host (your pet). These end-products or, metabolites, provide energy for host cells, contribute to cell proliferation, and aid in fat absorption. Furthermore, gut microbes help synthesize vitamin K and several different B vitamins.
● Immunity — As a primary barrier between the gut mucosa and the outside world, your pet's intestinal flora plays a fundamental role in overall immune function. Not only do these microbes help ward off harmful pathogens that enter the gut, they also communicate with and influence host immune cells by providing energy and even modulating their activity. Studies have shown that, at birth, germ-free animals have fewer immune cells in the intestines and in the blood compared to animals exposed to bacteria, indicating an intricate relationship between gut microflora and immune function.
● Neurologic and brain function — An emerging area of microbiome research suggests that "experimental changes to the gut microbiome can affect emotional behavior and related brain systems." Early evidence shows that alterations in the bacterial make-up of the gut may play a role in brain diseases such as autism, anxiety, and depression. A study in dogs even revealed a statistically significant improvement in anxious behaviors after supplementation with a particular probiotic strain.
● Kidney function — As scientists explore the myriad of ways the gut microbiome impacts the body's systems, human findings suggest that kidney disease may alter the bacterial make-up of the gut flora, too. This link allows for an interesting area of study with the potential for valuable new treatment options for this chronic disease.
Is your dog's microbiome healthy?
The gut microbiome is comprised of thousands of diverse species of bacteria—some beneficial, some unwelcome—that collectively work to affect intestinal and other physiologic functions. When the microbiome is unbalanced, a reduction in bacterial species diversity or an increased number of pathogenic bacteria may occur, leading to a variety of clinical signs. This condition is known as dysbiosis. Affected pets may experience gastrointestinal signs, difficulties with nutrient absorption, or changes in fecal consistency, among others. Interestingly, dysbiosis can cause these abnormalities, but certain disease processes may also induce dysbiosis. Since this delicate ecosystem has such an impact on overall wellness, an unbalanced microbiome may be to blame for pets with a variety of health conditions. Chances are, however, if your pet is healthy, their microbiome is too.
Supporting your pet's microbiome:
Manipulating your pet's intestinal flora may be necessary at some point in their life. Whether an acute case of diarrhea, a chronic gastrointestinal condition, anxiety, or even allergies, your veterinarian may recommend different products to support your pet's intestinal health. Remember to always consult with your veterinarian before initiating a supplement or diet change. Here are some proven treatment options that may be presented to you, depending on your pet's condition:
Prebiotics — You can think of prebiotics as nourishing food for favorable gut bacteria. Providing these specific fibers encourages beneficial bacteria to produce helpful metabolites, like short-chain fatty acids. While some prebiotics are safe for pets, like inulin and certain whole grains, others can pose risks of toxicity. They may be helpful in humans, but prebiotics like green onions and garlic could cause a dangerous red blood cell loss known as Heinz body anemia.
Probiotics — When we directly provide the gut with adequate amounts of beneficial bacteria or, probiotics, we can successfully alter the intestinal microbe balance for the better. Pet probiotics are becoming a hallmark for treating diarrhea, intestinal disorders, and even anxiety. While veterinary research into probiotic effectiveness is ongoing, the benefits in human medicine are well-established. Veterinary Naturals' Immune & Allergy Chews provide both prebiotics and probiotics to help support pets with immune, allergic, or digestion problems. Your veterinarian can determine if your dog requires a specific probiotic strain.
Medications — When undesirable bacteria proliferate in the gut, antibiotics or other medications may be warranted. Ideally, this treatment will be given alongside a probiotic to encourage a healthy microbial balance.
Prescription foods — Specific diets with unique combinations of fiber, vitamins, prebiotics, and probiotics may be indicated for pets with specific health conditions.
Your dog's gut is responsible for an incredible array of duties that keep her healthy, so it makes sense to take good care of it. Start by feeding your pet a nutritious diet and consult with your veterinarian about specific supplements that address her unique needs. While there is still much to learn about the emerging microbiome field, current findings suggest that this mini-ecosystem is capable of influencing overall canine well-being—a gutsy role, indeed.
~~~
Sources:


Intestinal Microbes and Digestive System Disease in Dogs


https://www.ncbi.nlm.nih.gov/pmc/articles/PMC1500832/
https://www.hillspet.com/content/dam/cp-sites/hills/hills-pet/en_us/microbiome-landing/welcome-to-the-world-of-microbiome.pdf
https://www.ncbi.nlm.nih.gov/pmc/articles/PMC6794400/
https://www.ncbi.nlm.nih.gov/pmc/articles/PMC4228144/
https://www.purinaproplanvets.com/media/530875/nutrition-exchange-insert-dec2018.pdf
Vrieze A, Out C, Fuentes S, et al. Impact of oral vancomycin on gut microbiota, bile acid metabolism, and insulin sensitivity. J Hepatol 2014;60:824-831.
Cox LM, Blaser MJ. Antibiotics in early life and obesity. Nat Rev Endocrinol 2015;11:182-190.
How are America's dogs handling separation anxiety? We surveyed dog owners across the country to find out. 
Does your dog get underfoot as you're headed out of the house, or become super excited to see you on your return? Does Fido destroy your shoes if he can get into the closet when you're out -- rather, does Fido destroy whatever he can get his mouth on? Did Penny, the next-door neighbor, leave another note on your door about the howling she heard in your house while you were at work?
It's possible your dog has separation anxiety, but you probably already knew that. 
Over the last few months, the unbreakable human/pet bond has intensified even more during the remote work phenomenon of COVID-19. Many Americans thought they would be at home for two weeks, so their pets' lifestyle didn't change drastically during the initial days of the pandemic. However as time draws on, several months later, and we're still at home with our pets, their day-to-day lives are different (much like ours) because we're home so much more often than we used to be. 
One of the biggest causes of separation anxiety in dogs is a change in routine or lifestyle. Now that Phase 3 is underway throughout most of the U.S., some dog owners are heading back to the office, leaving Fido and friends at home alone. Therefore, we decided to explore what pet owners will do to alleviate the stress of heading back to work and create a more comfortable living environment for their pets. To find out, we surveyed dog owners in all 50 states about how their pets experience separation anxiety. 
But first, let's take a quick look at what separation anxiety actually is. 
Separation Anxiety: What is it? 
One of the most common complaints from pet parents is that their dogs become destructive or disruptive when left alone to their own devices. Much like a parent experiences when they're dropping a child off at daycare or preschool for the first few times, some pet parents have dogs who are particularly attached to their owner or guardian. 
They become distressed when left alone which accounts for a variety of behavioral issues. 
But it is more than just whining or destroying an item within reach. In fact, it's one of the main reasons owners choose to give up their dogs or re-home them. 
Common Signs of Separation Anxiety in American Pets 
Every dog is an individual, which means they all have their own set of experiences with which they frame their perception of the world. From excessive drooling to dangerous escape tactics, there are a handful of common symptoms of separation anxiety. 
The most common symptoms of separation anxiety include:

Going potty in the house, even though Fido is housebroken 

Barking and howling in excess when Fido is left alone

Chewing, digging, or destroying household items 

Pacing, often in a certain pattern

Attempting to escape 
Over the last few months, reports of separation anxiety in dogs have risen tremendously. 61% of dog owners that we surveyed mentioned their dog exhibits noticeable signs of distress when they're preparing to leave the house during COVID-19. We wanted to know what the most common symptoms of separation anxiety in dogs during the pandemic looked like. 
The Most Common Anxious Behaviors Dogs Exhibit When Owners are Out of the House During the Pandemic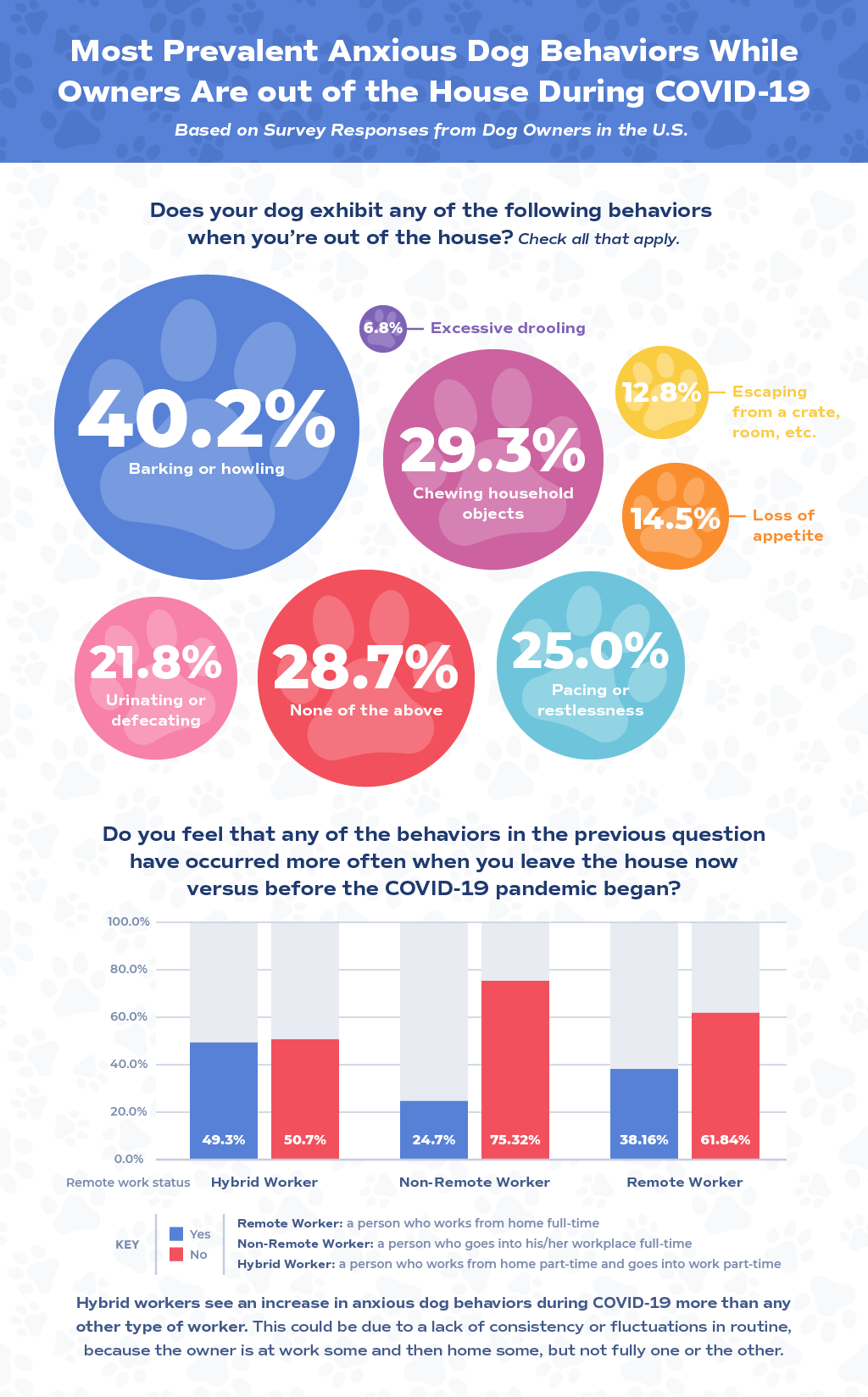 According to survey results, barking/howling (40%), chewing household objects (29%), and pacing/restlessness (25%) are the primary anxious behaviors that dog owners see their dogs exhibiting while they are out of the house.
Barking and howling is one of the most common ways stressed dogs handle their anxiety, regardless of the status of the pandemic.  Similar to a child's temper tantrum or a baby's desperate cry, barking helps dogs release energy. 
One insight that stands out within the survey results is that hybrid workers (people who are working at the office sometimes whereas other times they're working remotely) struggle with separation anxiety in their dogs the most. Is it possible that because there is less routine or less predictability of schedule, the dogs of hybrid workers are more worried about when they'll see their guardians again? Absolutely! 
Aside from creating a predictable routine for your dog, there are other methods of treating separation anxiety and managing its symptoms in your dogs' behavior. 
How Are Pet-Parents Handling Separation Anxiety Symptoms?
The first step to managing or eliminating separation anxiety symptoms is to reach out to your vet to rule out any medical issues. But once that's done, it's time to work through teaching your pet other coping strategies to handle their anxiety symptoms. 
Coping Methods for Separation Anxiety 
For some dogs, the best way to alleviate anxiety is to keep the dog busy and stimulated through exercise and engagement. 54% of owners responded that this is the way they manage their dogs' separation anxiety. Meeting all of the dogs' biological needs helps ensure that they don't have too much energy, which can contribute to anxiety. Over 46% of owners responded that their dogs are soothed by a special treat, such as a toy filled with peanut butter or a frozen Kong treat when their owners leave the house. Get some inspiration on how to fill puzzle toys and special treats for your dog if you haven't tried this method before. 
Other owners prepare their dogs' by slowly teaching them how to cope while they are away. Pacing is a particularly effective method of alleviating separation anxiety in dogs. When you're mindful of how long you're out of the house, dogs have an easier time accepting that you'll be back (eventually)!
Those aren't the only ways owners are helping their dogs cope with separation anxiety.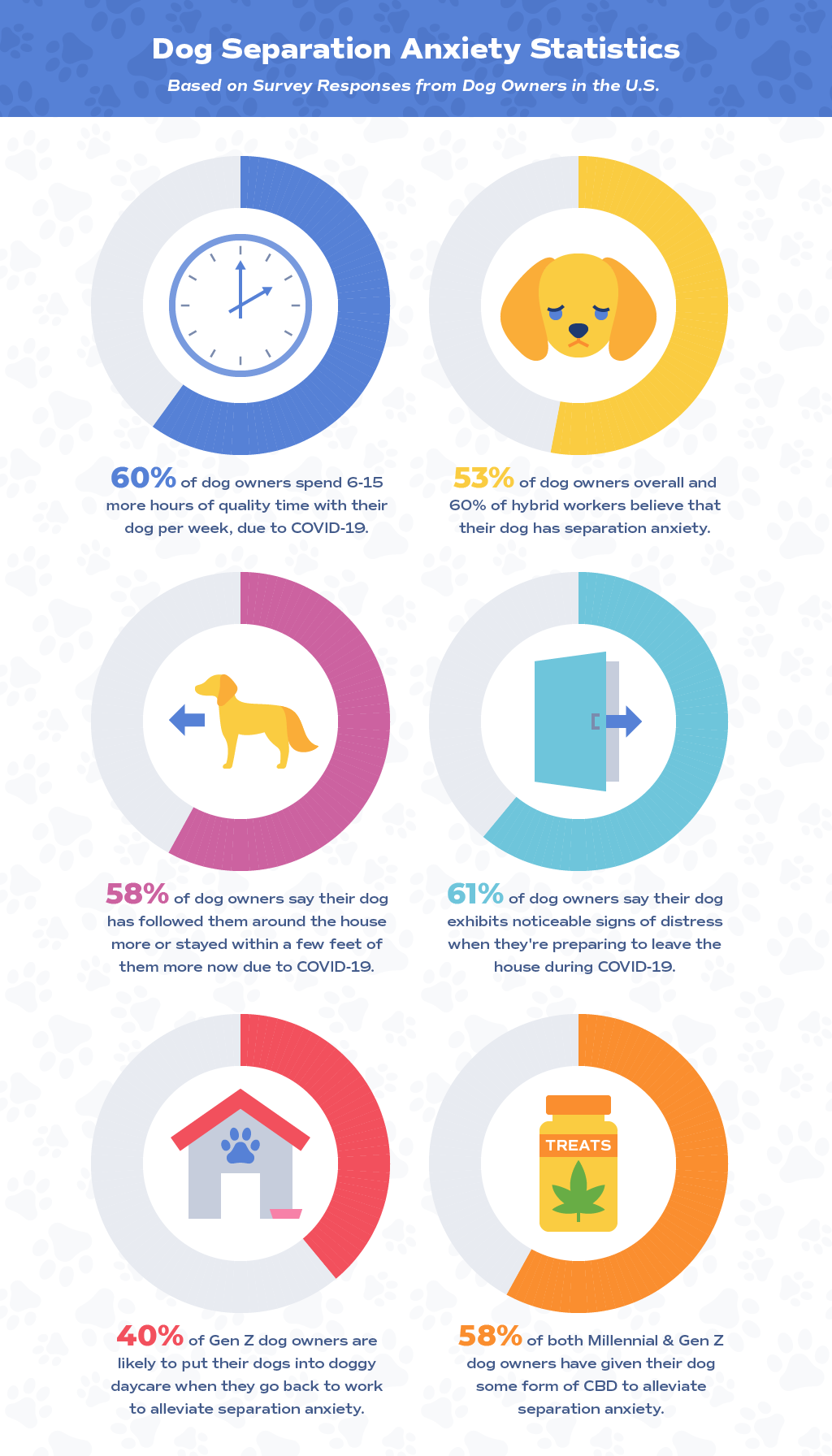 Dog keeping, as a whole, changes based on the current research and available information. With that in mind, it's easy to see why different generations handle certain behaviors differently. 40% of Gen Z respondents said they'd be likely to try "doggy daycare" if their dogs had separation anxiety. 
Another common method pet parents are trying to help their dogs eliminate their anxiety is by utilizing CBD treats or supplements. 58% of both Millennials and Gen Z pet parents report trying CBD supplements, treats, or add-ins for their dogs. 
What's really surprising is that only 6.5% of people surveyed responded that they would reach out to a dog trainer for help with managing the dog's behavior. And what's even more surprising is that according to Google Trends, the monthly search volume for "dog trainers near me" has increased 50% over the past 12 months, and is steadily increasing throughout the course of the pandemic. 
According to Natalie Dobkins, head trainer of Canine Performance Coach, separation anxiety is the manifestation of a variety of variables. "In order to treat multi-variable behavior like separation anxiety, you have to work on the different variables creating the behavior. Our dogs value clarity, expectations, and understanding. All of which can be expressed through crate training, tethered decompression, and structure," says Dobkins.
How You Can Help Your Dog if They Are Experiencing Separation Anxiety
It's safe to say dogs feel "bad vibes" and can react based on the emotions we, as their pet parents, are feeling. Dogs are incredibly good at reading humans, especially their humans. That's why we wanted to know whether pet parents thought their own anxiety could be affecting their dogs.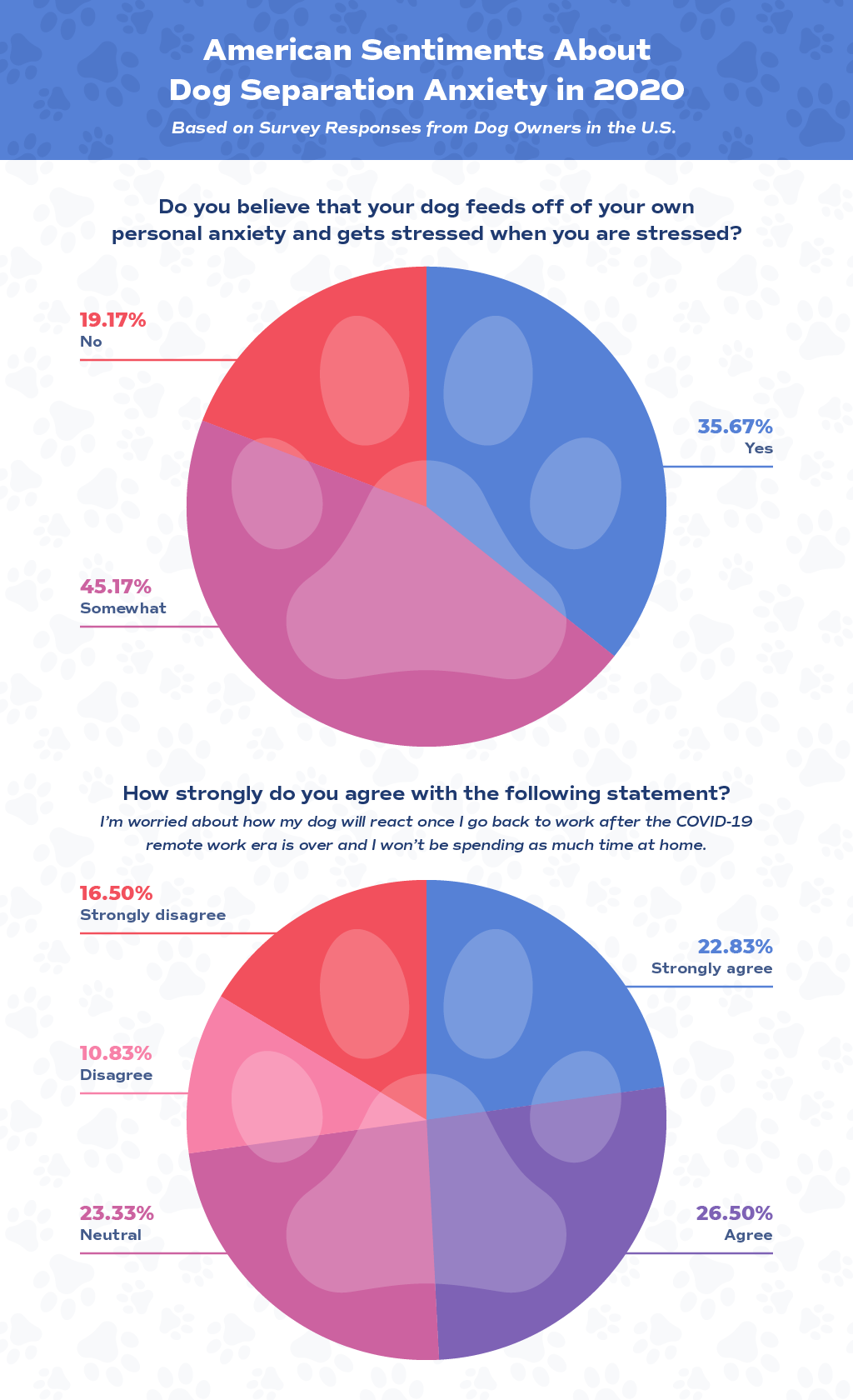 Though more dog owners feel like their anxiety somewhat affects their dogs (45.2%), the second most common response was that yes, 35.67% of pet owners do feel like their anxiety affects their dogs. 
Our dogs look to us for cues about how to behave in certain scenarios. That's why if you feel anxious about leaving your dog at home alone, they might also feel anxious about it. 
If your dog is experiencing separation anxiety or if you're headed back to the office soon, here's a quick recap about the ways you can help:

Try to

keep up a routine, not a schedule

. The flexibility of routine helps provide structure, the knowledge all their needs will be met, and more. 

If you are anxious about how your dog will behave when you're not at home, consider remote-access tools like Furbo or a treat-dispensing toy. 

Contact a dog trainer

near you because there are certain separation anxiety-induced behaviors like escapism that could get your dog hurt. Some dogs will try and escape to find their owners - a trainer can help!

Consider trying a

CBD treat or supplement

to help calm your dog. 

Remember that your energy matters. Your dog looks to you for cues on how to act, so

teach them coping skills

to manage their anxiety!
Did you know there are three types of cannabis-related drugs? Or perhaps you've heard CBD comes from hemp. What about the 2018 Farm Bill? And then there's this shocking fact: Marijuana has been used by humans since 500 B.C.
Another fact you're likely hearing more about: CBD for dogs is becoming increasingly popular--both for pet owners and veterinarians. There are countless facts about CBD and its benefits. It's suggested for everything from soothing anxiety to helping reduce inflammation. It's recently become a veterinary darling, too. For more surprising facts about this popular supplement--as well as information on how it might help your dog--download our special report on CBD from Vet Candy.
Get our Free Guide to CBD delivered right to your inbox.
Western veterinary practices have made great advancements in recent years for dogs. From new surgical approaches to disease-fighting medications to state-of-the-art diagnostics: The developments have proven their worth. Yet while few will argue the benefits of conventional veterinary medicine, many are just now recognizing the appeal of so-called alternative therapies or integrative medicine. This trend in human medicine is clearly mirrored in the veterinary world, where more and more pet owners are seeking ways to address their pet's health with a more natural, less-invasive approach.
Rather than choosing one style of medicine over another, however, many veterinarians are recommending complementary therapies like acupuncture, chiropractic, and massage in addition to conventional care to treat their four-legged patients. Alternative remedies offer a unique treatment style that, when combined with traditional Western methods, can provide a holistic, multi-modal approach to overall pet wellness. So, how might alternative therapies benefit your dog? Depending on your pet's needs, one therapy may be more suitable than another, but most options can benefit pups in a myriad of different ways. Here are a few examples:
Massage therapy may help prevent injuries.
Anyone who's had a therapeutic massage knows the benefit of a healing touch. But, by using specific hand movements, massage therapy can actually improve muscle functioning by relieving tension and increasing joint range of motion. This is especially important for active dogs that participate in racing, agility, or other high-energy sports, when quick movements and heavy impact may put them at risk for sports-related injuries. A pre-workout massage can help prep and warm the muscles prior to use, encouraging blood flow and reducing the possibility of injury during exercise. Massage is also an excellent post-training therapy that encourages relaxation and soothes sore muscles. Veterinarians are trained to provide simple instructions on range of motion exercises for pets, but look for a Nationally Board Certified Practitioner of Animal Acupressure or Massage for the benefit of a highly-trained therapist. Depending on your dog's needs, your family veterinarian may refer you to a certified canine rehabilitation therapist (CCRT) or a board-certified veterinary sports medicine and rehabilitation practitioner for more specialized care.
Laser therapy may speed recovery times.
Veterinary practitioners worldwide are recognizing the healing power of laser, which stands for light amplification by stimulated emission of radiation. Therapeutic lasers emit single wavelengths from the red or infrared spectra that, when directed at the body, may increase vasodilation, energy, and antioxidant production in tissues. This acts as a little power boost, sending the body into active repair mode to heal damaged tissues, decrease inflammation, and even relieve pain. While there is still controversy regarding the efficacy of laser therapy, it continues to be a popular choice for pets recovering from surgeries, wounds, and even chronic musculoskeletal conditions like osteoarthritis. If your family veterinarian doesn't offer laser therapy at their facility, they may refer your pet to a veterinary physical rehabilitation center for treatment.
Chiropractic can do wonders for pain control.
Also known as Veterinary Spinal Manipulation Therapy (VMST), chiropractic care focuses on adjusting subluxations in the spine that contribute to pain, decreased range of motion, and nerve dysfunction. With the spine being the literal backbone, it's alignment is essential for optimal canine health, from nose to tail. A qualified practitioner can restore normal joint movement with a painless, relaxing procedure that involves gentle, high-velocity thrusts at specific angles. Chiropractic is a wonderful complementary therapy to any pain management regimen, but it can also address a multitude of other health concerns such as incontinence, injuries, and even seizure disorders. Since our dogs cannot verbally communicate when and where they feel discomfort, pain can be difficult to quantify in companion animals. Therefore, pets of all ages, breeds, and health conditions may benefit from regular chiropractic care. Speak with your family veterinarian about referral to an American Veterinary Chiropractic Association (AVCA) certified doctor for your dog's treatment.
Acupuncture can help calm anxiety.
Acupuncture involves "the insertion of needles into specific points on the body to produce a healing response," according to the International Veterinary Acupuncture Society. These specific points, known as meridians, indicate where certain blood vessels and nerves converge. When stimulated with a fine, sterile needle, these acupressure points cause a boost in blood circulation, encouraging the release of a whole host of healing, calming, and anti-inflammatory elements. The end result is often a relaxed and pain-free pet. While some owners fret at the thought of their dog receiving a series of needle insertions, acupuncture is actually widely tolerated by furry friends. In fact, many pets welcome the treatments once they experience the flood of endorphins and feel-good response that comes with regular sessions. The potential sedative effects of acupuncture make it a great adjunct treatment for canine anxieties, fears, and phobias. Keep in mind that, like many therapies, acupuncture often requires consecutive treatments for optimal results. It also works best when combined with other treatment modalities, depending on your dog's specific needs. Work with your veterinarian to find a reputable, certified veterinary acupuncturist near you.
While it may be tempting to pursue alternative therapies for your dog on your own, most providers will require a referral from your veterinarian—and for good reason. Many alternative procedures are largely safe for pets, but there can be risks. For instance, improper therapeutic laser usage could cause ocular damage—in the patient, the practitioner, or anyone else in the treatment room. Chiropractic adjustments may cause minor—and usually temporary—side effects like soreness or lethargy, but profound damage could occur if the practitioner is too forceful or otherwise untrained. Acupuncture is considered very safe, but a successful treatment could mask your pet's pain, potentially hiding an undiagnosed condition. Additionally, since many states have differing laws and regulations regarding who is allowed to perform certain therapies on pets, a quality recommendation from your veterinarian is essential. Express your interest in alternative therapies and work with your family veterinarian to create a tailored, integrative, and holistic approach so your pet can achieve optimal health through a variety of therapies.
Sources:
https://www.ivas.org/about-ivas/what-is-veterinary-acupuncture/
https://todaysveterinarypractice.com/practice-building-integrative-medicine-the-evidence-economics-logistics-of-an-emerging-field/
https://todaysveterinarypractice.com/recovery-rehab-laser-therapy-in-companion-animals-2/
https://www.ncbi.nlm.nih.gov/pmc/articles/PMC4847466/
https://www.researchgate.net/publication/228621606_The_effect_of_low_level_laser_therapy_on_surgical_wound_healing
https://www.animalchiropractic.org/find-a-doctor/
https://www.nbcaam.org/certification-exam-requirements
https://vcahospitals.com/know-your-pet/veterinary-massage-therapy
https://medwinpublishers.com/OAJVSR/OAJVSR16000184.pdf
When it comes to stress--for better or worse--dogs are just like us. According to the College of Veterinary Medicine at the University of Illinois Urbana-Champaign, up to 40% of dogs are seen by vets for anxiety disorders. And just as back-to-school season can cause stress for humans, it's much the same for dogs. In fact, now that many states have been releasing COVID-19 stay-at-home restrictions, many Americans are heading back to the office, leaving their four-legged friends at home. 
So how do you help your dog cope with separation anxiety? It's a matter of soothing stress--and even preventing it. Here are six tips to help keep your pup happy at home:
Encourage Independence
This is something you'll want to do before anxiety kicks in, though it's never too late to start. "Encouraging dogs to be independent decreases the likelihood of developing separation anxiety and can also help treat it," says Leah Cowburn, DVM, a primary care veterinarian for the Last Chance Animal Rescue in Waldorf, Maryland. For starters: "Do not encourage your dog to be overly clingy and always by your side."
So as much as you love having your dog follow you everywhere--encourage him to stay, and even play alone with toys.
Cowburn suggests signing up for training and socialization classes when your dog is a puppy. You can also bring your dog around new people and pets, or into different environments.This can help your pup build confidence that can translate across multiple situations.
Don't Make a Grand Entrance
You might be just as happy to see your dog as she is excited to see you, but keep calm when coming home. The same goes for leaving. "Making a big deal about coming and going can cause dogs to be triggered because they'll learn what to expect," Dr. Cowburn says. Instead, "prepare for your departure as much as possible while keeping your pet occupied."
Cowburn suggests investing in enrichment toys to keep your dog mentally engaged. "If possible, try not to let your dog see items he can associate with departure, such as keys, shoes, and your coat," she says. "And when arriving, act neutral. In some cases, you may have to ignore your dog so he does not associate positive reinforcement with your coming home."
Burn Off Steam
Exercise is excellent for helping pets beat stress (just as it's much the same for us). And with dogs, burning off some energy can help them sleep while you're away. Cowburn suggests making long, brisk walks a morning habit. It can help launch your day in a clear, calm way.
For those of you who run, if your dog is fit enough, enlist him as a partner. The extra exercise can do wonders for your mental and physical health as well. 
Keep Your Home Comfortable
Give your dog the creature comforts you love. "Soft bedding can help keep your dog comfortable and calm," Dr. Cowburn says. "White noise or calming music can also be helpful."
Yours truly can personally vouch for the Jack Johnson channel on Pandora, for successful canine calming. Choose what makes sense for you, and if you want to get really creative, make your pup a special mix. 
You'll also want to make sure your dog's environment is safe. "If your dog is destructive, ensure there are items that are safe to destroy yet which are not potentially toxic, or which may cause a gastrointestinal blockage if ingested," Dr. Cowburn says. And that goes for plants, too. Check out this ASPCA list of toxic plants, to help keep your dog safe while you're out. 
Choose toys rated for tough chewers, and do not leave out anything that can easily be torn or splintered. If your dog shreds stuffed toys, for example, it's wise to remove them until you're home, as they can cause trouble if ingested.
Try Some Supplements
Talk to your vet about your dog's behavior and ask if your pet might be a candidate for supplements. Ingredients like valerian root and tryptophan are known to help calm canine jitters. Your vet can help you determine what may or may not be right for your dog depending on his needs and health. If your pup has been cleared, a product like Vet Naturals Hemp & Harmony can help take the edge off stressful situations for your dog.
Keep Your Own Cool
"Do not punish your dog if they misbehaved while you were gone," Dr. Cowburn warns, "as this will create more fear and anxiety around your absences." 
If your dog exhibits anxiety, try to soothe him, and even better, do your best to prevent it. It may require patience on your part, but that's just part of being a parent, even of the four-legged kind. 
Every dog's face tells a story. And it's nearing that time of year when you might want to capture that face—to feature it on your holiday cards. Or maybe you want to gift someone some pet photography! Here are five tips to help you score the best photos of your dog.
Location, Location, Location
If you truly want to capture your dog's essence, consider the location for your shoot. Does your dog love to romp in the stream? Or perhaps it's a constant game of fetch. Maybe he's a fan of sticks. Answering these types of questions can help you choose the right spot for your shoot.
If your dog is older, home may be the best bet.  You can photograph him while he is going about his daily activities, such as resting on the couch, playing with a favorite toy, or doing other activities he enjoys. This will also help you capture his unique personality.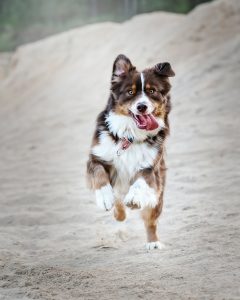 Consider Natural Light
Photographing your dog is much the same as with humans. Natural light can give you a better (and easier) outcome than when using flash. (Forget red eyes.)
"The best times for outdoor lighting are in the morning before Noon, which will give a cooler feel to the portrait, and late afternoon to evening which will give a warmer feel," says professional photographer, Christy Frazier. "Avoid using early afternoon sunlight as it can be harsh and unflattering."
If you must use a flash: Note that some dogs may find this uncomfortable. Place a piece of wax paper in front of the flash to diffuse the light.
Get the Right Angle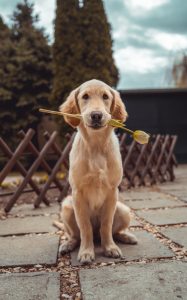 The most common mistake people make is taking a photograph using a downward angle—it can often distort the image and leave you with an impersonal portrait. Instead, get down on your dog's level, and view the world from his perspective. The next time your dog is laying on a blanket, for example, take the photo with the camera closer to the ground so you can capture the way his chin rests on his paws.
Get Your Dog's Attention
Not all dogs are going to sit perfectly and look right at you. You may need to use some treats or noises to get your pup's ears to perk up. Noises from squeaky toys, whistling or even talking can help make a dog look at you. Just be careful that it isn't a noise that will make your dog get up and run towards you, unless this is what you want. Treats are helpful if you need your dog to look up at you or off to the side. Dogs react to treats differently, so use what you know works best for your dog to get him to react the way you want.
Sometimes just letting your dog be himself is all you really need. Candid shots will show more of your dog's personality, and tell the stories you remember.
Come Well Equipped
Digital cameras are highly recommended when taking photographs of your dog. They offer the freedom of multiple back-to-back shots (and even burst mode), and you can check everything instantly.
You may want to consider a tripod or something stable to set your camera on. This will help prevent camera shake as well as keep the angle you intend for your shots.
Your instinct as a dog mother or father is no doubt second to none. You can sense when your dog is hungry, sleepy, or just in need of a cuddle.
But do you know how to check if your pup's health is in tip-top shape? This can be tricky—especially considering that your pooch can't just tell you with words that something isn't quite right! Fortunately, there are some tell-tale signs you can keep an eye on in order to ensure your dog is healthy. Here are six ways to tell:
1. Shiny Coat
Does your dog boast a shiny coat? It's a good sign your dog's nutrition is in top shape. A dull coat could be a sign of nutritional deficiencies. If your pup's coat lacks any sort of sheen (and your dog isn't a wire- or curly-haired breed) it may be a good idea to look into his diet. Are you feeding clean food without a lot of additives? Your dog may need a boost of Omega-3 fatty acids, such as in Omega Chews. According to the American Kennel Club, Omega-3 fatty acids help promote a shiny coat and can also help reduce inflammation.
2. Pain-Free Joints
Pain-free joints are one of the greatest signs your dog is in good health. Many dogs unfortunately suffer from osteoarthritis, particularly as they age. According to a study conducted by Banfield Pet Hospital, 16% of geriatric dogs are diagnosed with arthritis. 
If your dog is experiencing joint pain of any kind, consult your veterinarian. Administering supplements like Hemp & Hips chews may help ease symptoms (and can help prevent aging-related pain), but check with your vet to ensure your pup isn't experiencing an injury.
One of the best ways to keep your dog's joints healthy is through exercise! And it's even more important as your dog ages. Try to get your pup out for at least one good walk each day. It can help you stay in shape, too!
3. Clean Teeth and Gums
"Many dog parents aren't aware of the state of their dog's teeth and gums until they realize their dog is in physical pain," says Angela Stringfellow from Pet Life Today. "But prevention is always better than a cure."
Surprisingly, the American Veterinary Dental College says dogs can exhibit dental disease symptoms by the time they're just three years old. Stringfellow suggests talking to your vet about how best to care for your dog's teeth. She may suggest using a special dog toothbrush and toothpaste at home. (Note: While it's OK to use a child-size toothbrush, do *not use human toothpaste on your pup's teeth!) 
 "Regular teeth cleanings are also a must to prevent tooth decay," Stringfellow adds. "If your dog is already exhibiting signs of dental disease (like bleeding gums, foul breath, or cracked or darkened teeth), don't delay in seeking help."
4. High Energy
One of the best things about dogs is their boundless energy. If your four-legged pal is always up for a game of fetch or eagerly anticipating walks, this is certainly a comforting sign.
But what does it mean if your dog's energy levels have dropped? There can be a number of causes of lethargy in dogs, including infection, metabolic disease, or even certain medications. It's vital to not dismiss lethargy as a minor problem. Consult your veterinarian about noticeable behavior changes, and/or if the problem seems to be ongoing.
5. Healthy Appetite
Does your dog clean his plate--and then some? Do his eyes light up when he hears the rattle of a can of dog food? These are key indicators Fido has a healthy appetite. 
If your dog's appetite has changed, this could be cause for concern. Hopefully, it could be something simple like he doesn't like his current food. But it could be something more serious, such as a sign of a medical condition. If your dog is experiencing a loss of appetite, consult your vet. 
6. Normal Stools
One of the not-so-nice parts about being a dog parent is dealing with your pooch's business. But there's an upside to this task—dogs' stools provide a good indicator of when they're healthy… and when they're not. According to Hill's Pet, healthy poop (prepare yourself) should be a little firm with no coating, and ideally shaped like slightly cleaved logs.

If your dog's poop doesn't resemble this description in the slightest (or if it's smelling foul), it may be time to take action. Hill's Pet recommends looking at 'the four Cs:' content, coating, color, and consistency for signs that something isn't quite right. If there's cause for concern, consult your veterinarian.  
If the above were a quiz and your dog scores six out of your six: You're in good shape. And so is your pup! As with any veterinary health concern, it's wise to consult with your dog's veterinarian. Pet insurance may also be a good idea, as part of your dog's overall health program. It can not only help ease the burden on your wallet, it could help make it easier for your dog to get the care she needs. Hopefully by watching the above six signs, you can help keep your dog in tip-top shape for life.
Have you ever wondered if CBD oil -- the substance often contained in hemp supplements -- could be a good option to help your dog? A good way to answer that question is to start by describing what CBD is and how it works within a dog's body. CBD is short for active cannabidiol, which works by interacting with endocannabinoid receptors that exist in most living things on earth. Dogs have endocannabinoid receptors within them, which is why CBD is an effective way to change their behavior and reactions. In short, CBD can work within a dog's body the same way it does with humans.
AKC's Chief Veterinary Officer, Dr. Jerry Klein says that in most cases CBD does not contain delta-9-tetrahydrocannbinol (THC), the compound that produces psychoactive properties. CBD will not get your dog high, but it can affect certain aspects of your dog's personality.
Is CBD a good option for your dog?
It's a good idea to examine the pros and cons of CBD for dogs. Does your dog have severe pain or anxiety? If so, CBD could be a good option for your dog's health. CBD may also be help if your dog experiences pain, anxiety, seizures, appetite issues or several other medical conditions. 
It's important to note that CBD may come with some side effects, including allergic reactions. Check with your vet before administering. There is also no guarantee that CBD oil will work well for your dog, as every pup is an individual. 
What conditions can CBD treat?
CBD is used to treat many types of problems within humans and dogs, such as:
Anxiety
CBD oil might induce drowsiness, which can calm your dog's anxiety. 
Pain
CBD oil is not proven to stop pain, but it has been shown to make some dogs less reactive. "Dogs seem to be less reactive to low-level pain stimuli such as from arthritis when taking CBD," says Mark Verdino, DVM, senior vice president and chief of veterinary staff at the North Shore Animal League of America. 
Seizures
The AKC Canine Health Foundation (AKCCHF) is studying the effects of CBD on dogs with epilepsy and frequent seizures. According to the researchers, many epilepsy medications available for dogs come with extreme side effects, which would make CBD oil appealing. CBD has minimal side effects in comparison.
Appetite
Does your dog not eat enough? If so, CBD may be able to help as it's been shown to increase a pet's appetite. This would be helpful if your dog needs to gain weight or they have lost interest in their food. 
Allergies
CBD oil contains anti-inflammatory properties which can help skin irritations, for example, and potentially reduce itchiness. 
Potential Side Effects
It is vital as a dog owner to be aware of everything that goes into your dog's mouth. Here are some potential side effects that can come with CBD:
Drowsiness
As mentioned earlier, this is how CBD can help calm your dog--yet perhaps that's not your desire.  The amount of sleepiness your dog may experience depends on the dosage. 
Lowered blood pressure
CBD has been shown to lower blood pressure when given in high doses. Check with your vet before administering, to ensure it's safe for your dog, and to determine the correct dosage.
Dry mouth
CBD can decrease the production of saliva. Ensure your dog has access to water after giving them CBD oil or a CBD treat. If your dog seems dehydrated, see your vet. 
Ataxia 
This condition affects muscle control and has been seen in dogs taking CBD. The side effect is uncommon, yet if you notice your dog having trouble moving, immediately call your vet. 
Decreased liver enzyme activity
 Stop administering CBD and see your vet immediately if your dog experiences any of these potential, liver-related symptoms: 
Loss of appetite

 

Weight loss

 

Vomiting

 or 

diarrhea

Increased thirst

Instability

Increased need to urinate

Confusion

Yellowish 

eyes

, 

tongue

, or gums (

jaundice

)

W

eakness

 

Blood

 in urine or stools

 

Seizures

 Ascites (a build-up of fluid in the belly) 
Bottom Line: Find out what is best for your dog
As with anything pet related, it's important to have an open and honest relationship about your pets with your veterinarian. According to Dr. Klein, administration of CBD oil for pets by veterinarians was against the law as recently as 2018. Some states have now legalized this practice, however. The best way to find out if your veterinarian can legally talk about CBD oil for your pet is to simply ask. More research needs to be done, but so far CBD seems to help pets in ways it helps humans. Only you know your pet best, so consult with your veterinarian if you feel CBD might be a good option for your dog. 
Over the past few months, Americans have become remarkably close with their dogs. Stay-at-home orders were made much easier by time spent with furry friends. So, when pre-quarantine routines begin again, it will be harder than ever to leave dogs at home. You might be looking to take your dogs out for date nights, vacations, or simple errands, but will American cities be ready for leash-carrying clientele?
As major dog lovers ourselves, we at Vet Naturals were determined to find out, and evaluated different American cities' dog-friendly status. To do this, we used Yelp data to add the number of dog-friendly establishments per capita in 50 cities across the U.S. We specifically eyed outdoorsy cities given their propensity for a pet-friendly culture.
After that, we chose to analyze establishments grouped into five categories: restaurants, breweries, hotels, beaches, and campgrounds--in order to paint a fuller picture of the dog-friendly culture in city establishments across industries. What we found is that certain cities came out as clear leaders in terms of dog-friendly establishments, while other cities excelled in specific industries only.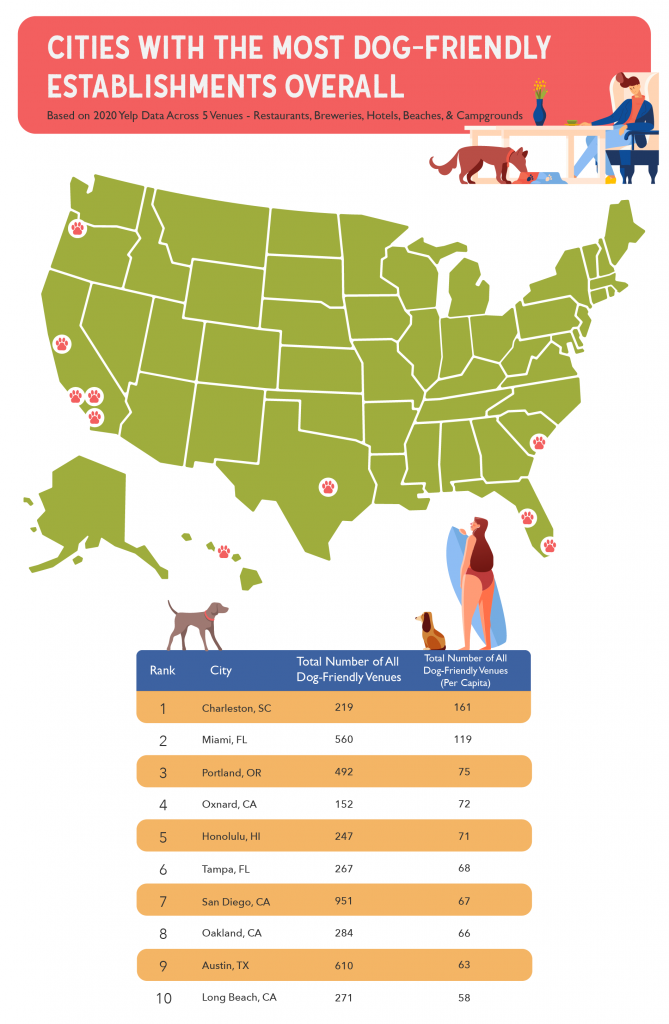 One city emerged as the clear winner for dog-friendliness across different establishments and outdoor sites: Charleston, South Carolina. Famous for its classic Southern charm, Charleston had an impressive 161 venues that were marked as dog-friendly per capita.
Overall, there was no major geographic trend for which cities had the most dog-friendly venues. Proximity to nature, however, was a positive indicator of dog friendliness. The beaches of Miami and wooded trails of Portland likely drive up dog ownership in these cities, pushing venues to open their doors to customers with four-legged friends.
On the other hand, more urban cities had far fewer dog-friendly venues and outdoor sites. New York City was home to the least dog-friendly establishments per capita overall. Other urban centers, like Louisville and Columbus also lacked dog-friendly establishments, despite a fair bit of public parks in these locations.
Still, depending on varying social preferences, individual dog owners may care about the dog-friendly attitudes of specific types of establishments. For instance, a foodie owner would want to know about the amount of dog-friendly restaurants in their city more than dog-friendly campgrounds. For these reasons, we also wanted to look more closely at the cities' dog-friendly cultures across different types of venues.
First, we looked at the amount of dog-friendly restaurants in different cities. Of course, health, sanitation, and etiquette standards may prevent different restaurants from opening doors to dogs. However, given that so many Americans are longing for the reopening of their favorite restaurants during social distancing, the amount of dog-friendly restaurants might be of timely importance to dog-owning diners.
The top-ranking cities followed the general dog-friendly trends--with Charleston and Miami coming out on top. The restaurant scenes in both of these top cities are some of the largest in the nation, famous for their Southern and Cuban cuisines, respectively. Therefore, it's no surprise that the food lovers in these cities would be happy to see dog-friendly signs at their favorite eateries.
A surprising insight from this data set is that Honolulu, Hawaii also hosts many dog-friendly restaurants. Perhaps the famously accommodative attitude of Hawaiians is the reason why so many restaurant owners in Honolulu are willing to open their doors to dogs. It's the Aloha spirit.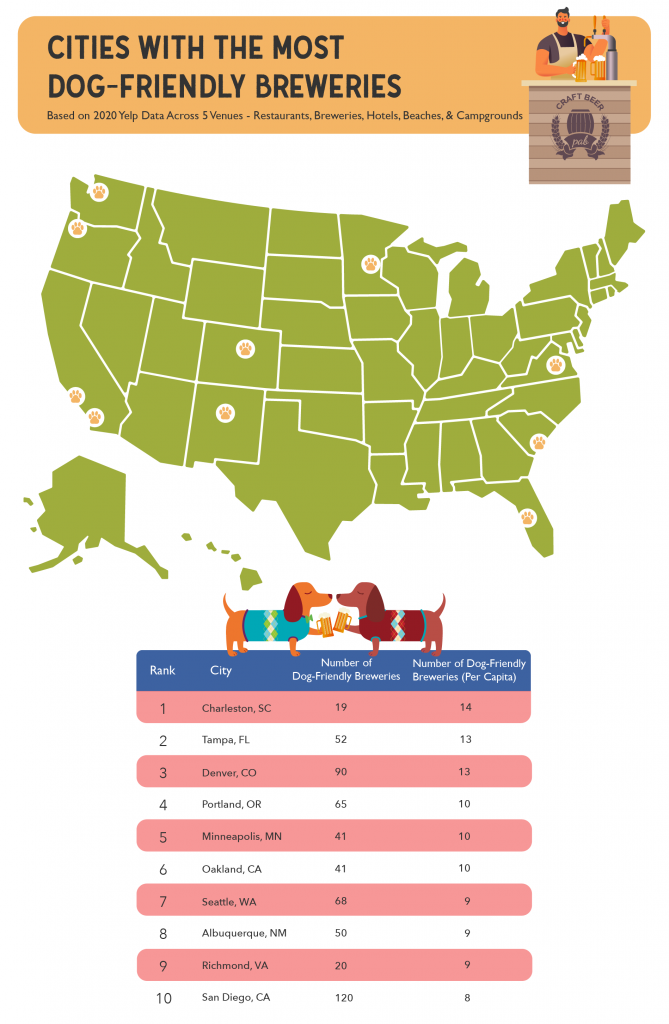 Next, we took a closer look at the cities with the most dog-friendly breweries. Given that some breweries have built up their brands and fan bases by publicizing their love of dogs, we thought that this insight would be especially meaningful to many beer-loving dog owners.
Not surprisingly, we found Charleston is home to the most dog-friendly breweries, with nearly 14 dog-friendly venues per capita. Tampa boasts an impressive 13 breweries per capita and Denver hosts 12 breweries per capita that are open to dogs. Given Denver's reputation as "The Napa Valley of Breweries," surely many Denver residents are counting the days until they can bring their dogs out for a hike followed by a pint with friends.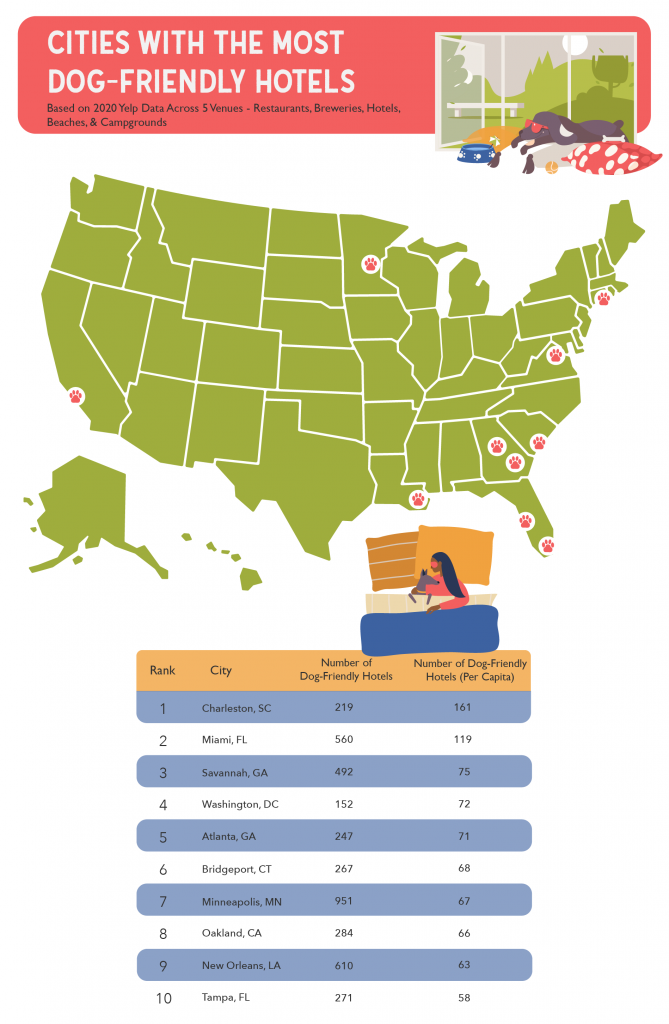 Of course, given that so many Americans will be looking to travel far away from the repetitive scenes of their cities when social-distancing ends, we also wanted to find the cities with the highest number of dog-friendly hotels per capita.
Charleston and Miami rank highly, which makes sense: Their tourist-destination status means that many hotels are open to dogs. Savannah, Atlanta, and New Orleans also made the top-10 cities with the most dog-friendly hotels, each with at least nine dog-friendly hotels per capita.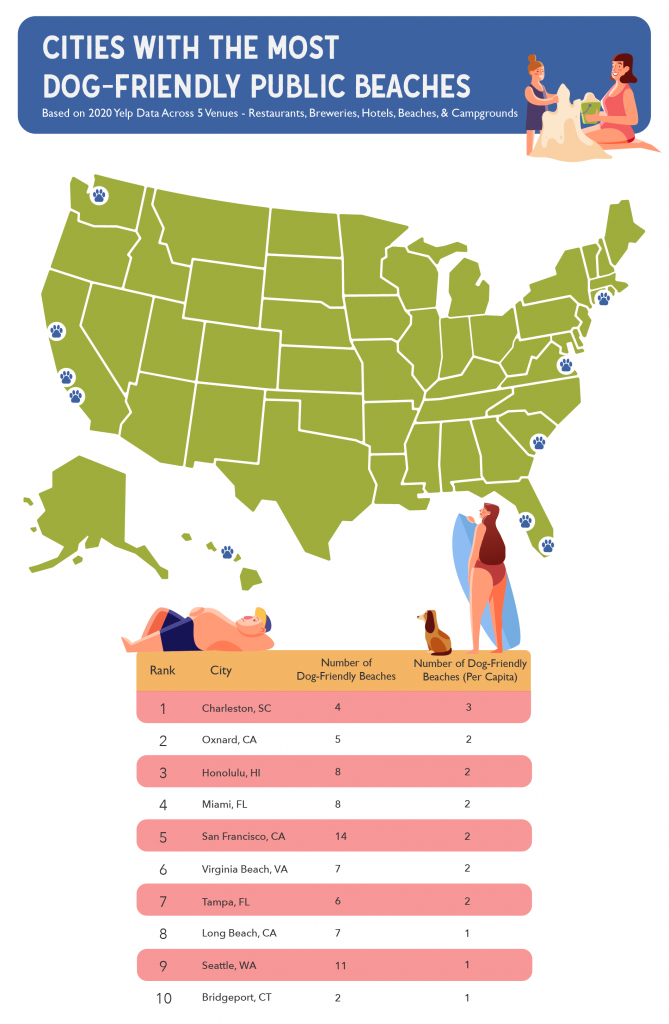 Beach closures this summer to mitigate the spread of COVID-19 were felt not only by humans but also by the dogs used to spending warm days chasing tennis balls through waves.
As it turns out, coastal Charleston once again comes out on top with three dog-friendly beaches per capita. However, the next-highest-ranking cities are located miles away in Oxnard, California, and Honolulu, Hawaii. In fact, Oxnard is home not only to surfing humans, but even some dogs whose videos have gone viral while riding Pacific waves.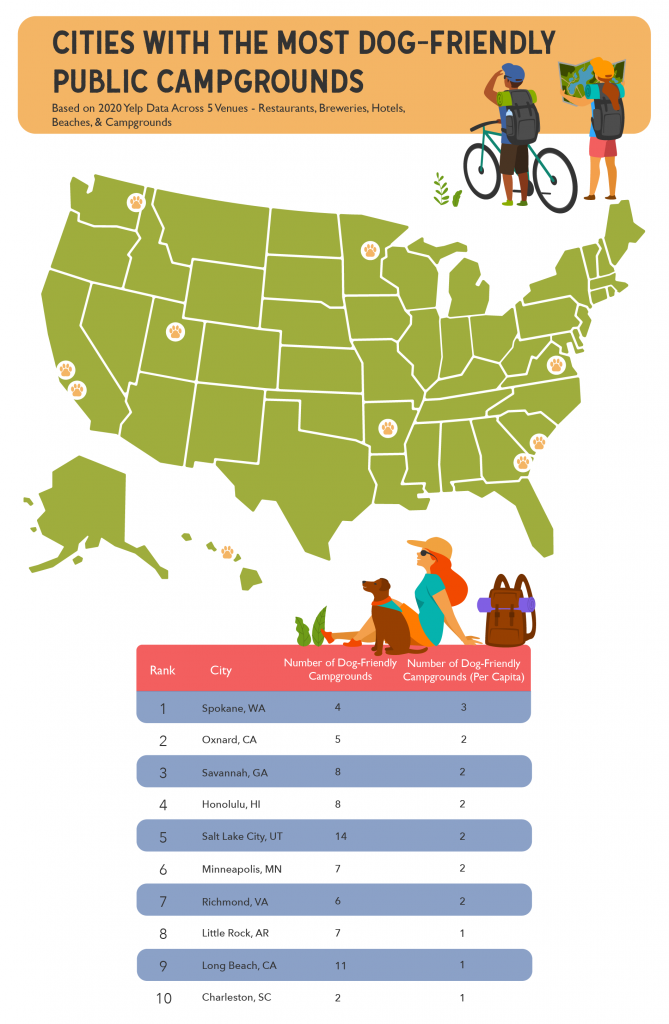 Since some humans and dogs prefer the mountains to the beach, we wanted to look at cities with the most dog-friendly campgrounds. Surprise! Charleston was not the top-ranking city with the most dog-friendly campgrounds. Instead, Spokane, Washington (flanked by the gorgeous Cascade and Rocky Mountains), tops this city list with with nearly five dog-friendly campgrounds per capita. Oxnard, California is next, with over three dog-friendly campgrounds per capita.
In all, our study of dog-friendly U.S. venues makes us happy: There are countless options across the country for you to get out with your dogs. At Vet Naturals, we love the idea of these outings, and we have all the pet wellness products to keep your dog exploring the dog-friendly venues that surround you.
This may come as a surprise: 50% of dogs by the age of 10 have missing teeth and over 85% have some stage of periodontal disease—which means there is a lot of calculus (gunk) and gingivitis (inflamed gums) in the dog's mouth. This often leads to bone loss, infection, and lots of pain. But there are things we can do to help prevent and manage dental decay. For dogs, dental health is key. 
Dental Health for Dogs Starts with Prevention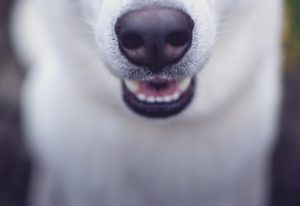 Prevention is key when it comes to dental disease and it has long been known that the gold standard is brushing your dog's teeth. Brushing teeth daily can significantly reduce plaque and gingivitis--the leading c
ause of problems such as infection and bone loss. Infection is caused by the buildup of bacteria which is what creates dental plaque to begin with. This inflames the gumline and leads to irritation. Beyond that, the more bacteria grow and infiltrate, the more they can eat away at the tooth. Brushing teeth daily can help greatly disrupt this process. 
It's important to note that plaque starts to accumulate as soon as 24 hours after the last tooth brushing, so it is very important to brush daily or at the very least, every other day. As frustrating as it is, brushing teeth is worthless unless done at a regular frequency.
To start brushing teeth, you can look for a tooth brushing kit for pets. One often includes a dog-safe toothpaste, an angled toothbrush to make brushing the dog's mouth easier, and a little finger cap-like piece that has bristles on it. 
First, try to find a flavor of toothpaste your dog likes to make it a pleasant experience. Give a bit as a treat, and then use your finger (without the cap) to rub some paste on your pup's teeth. Get your dog used to this feeling. Next, try adding the finger cap and then move to a toothbrush if you are able. The distinction between the finger cap and toothbrush is minimal as the friction of brushing teeth is what does most of the work removing plaque. 
It is important to keep in mind that while using human toothbrushes is not a problem, there are a lot of ingredients in human-grade toothpaste that can be quite toxic for pets. So stick to pastes that are made for dogs, only.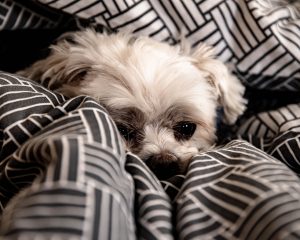 You may find that your dog will not tolerate brushing teeth. This is completely understandable, especially if you are starting your pup at an older age. If this is the case, the next best thing would be dental treats. These are sold over the counter at a variety of pet stores nationwide and are easy to acquire. They often taste delicious and encourage the dog to eat them without any work for you. The trick with these treats is that they provide some of the friction that toothbrushing would provide due to the way they are produced. As your dog chews, some of the plaque gets removed. 
Of course, not all the teeth get equal coverage and some dogs don't chew the treats for long enough to benefit. Still, if you are struggling to brush your dog's teeth or your schedule does not allow you to brush your dog's teeth frequently, this is a great, next best choice. Just remember to offset the calories in this new added treat by taking away other treats, or feed just slightly less throughout the day. 
On a similar note, chew toys are a great way to care for your dog's teeth. It is important to remember that not all dogs like chewing toys, and that toys can also be too hard. If you choose a toy that is too hard, you risk your dog fracturing a tooth. To test a dental chew or bone, you can use your nail to make an indentation in the toy. If you can't, the toy is too hard. 
Larger dogs are more prone to chew on toys that are too hard and frequently fracture teeth. These fractured teeth are then more prone to infection. On that note, if your dog likes to rip toys apart, as many Labradors Retrievers do, this may not be a great option as they could swallow a chunk and get it stuck in their digestive tract. 
The last preventative point related to dental health for dogs would be water additives. There has been some mixed information on it. While there is evidence that water additives can help reduce plaque to some extent, veterinary dentists say it is not nearly as significant as the methods mentioned above. If you are trying to decide between a water additive or brushing your dog's teeth, save your money and choose brushing and treats. If you plan on doing nothing at all, then a water additive may be helpful.
Manage Dental Disease...If It Happens
If your dog develops dental disease, it is important to work with your veterinarian and monitor for symptoms early on, like behavioral changes. Not all dental or behavioral changes result from normal aging. If you notice any issues, make sure to bring them up at your next routine appointment. Dogs tend to act very differently at the clinic due to the stress and excitement, and a veterinarian may only get a snapshot of your dog's behavior. 
Other important signs and symptoms include the following: bad breath, refusing to eat certain foods, weight loss and decreased appetite. If you notice any of these symptoms, be sure to mention it to a veterinarian. If dental disease is ignored, it can cause significant pain to your dog, and could eventually lead to an abscess. An abscess is a swollen part of the body that has a lot of pus. Abscesses can erupt, which would leave your dog with what would look like a puss filled hole in its jaw. Not only is this painful, it can also have a much longer recovery time and lead to additional medical conditions elsewhere in the body. Moreover, even if an abscess is not present, diseased teeth can lead to systemic infection as the bacteria from the teeth could enter the bloodstream.
Once your veterinarian either confirms or suspects a dental condition, they will likely recommend a professional dental cleaning under anesthesia paired with dental radiographs (x-rays). Dental radiographs help veterinarians see underneath the gum line and evaluate bone and ligament loss in the tooth. It also helps veterinarians look for anything that shouldn't be there such as fragments of a lost tooth or something your dog chewed on that got stuck and is now causing problems. Once these radiographs are taken and evaluated, the veterinarian can then decide what treatment plan would be most appropriate for your dog.
At the end of the day, listen to your veterinarian. If you are hesitant, get a second opinion or go to a board-certified veterinary dentist. These specialists are veterinarians who have undergone additional training to specialize in all things tooth related. You can use the following link to find a specialist near you: https://avdc.org/find-vet-dental-specialist/. 
When Your Dog Loses Teeth
Some people may be concerned that if a veterinarian recommends extracting teeth repeatedly, your dog may end up with no teeth. The reality is, this may happen. Veterinarians are not going to recommend removing healthy teeth, however, and as mentioned above, diseased teeth can lead to a lot of other problems. In this way, it is better to have no teeth than rotten teeth, and your dog can live very well with no teeth in the long term. 
The biggest concern for owners of toothless dogs is what to feed. While it is true that eating large treats or kibble will prove more difficult and could be dangerous, there are a lot of great options out there. Kibble exists in a large variety of different shapes and sizes, and many dogs fair just fine with a smaller kibble. For those that don't but still like the flavor of a certain hard food, you can add some warm water or chicken broth with no sodium to help soften the kibble. 
Additionally, there are a lot of great soft foods for dogs that provide all the nutrition your dog may need. Your dog may even prefer the flavor of soft food to their previous hard food.
Dogs can experience dental problems which can lead to a lot of systemic issues and pain, but there are a lot of things we can do to prevent them and a lot we can do to manage them once they happen. And if you find yourself with a toothless dog, just know that it was the best thing for your pup, and that he will no longer be in pain or at risk of additional conditions caused by their mouth.
~~~
Photo credits:
Feature: Yoav Hornung, Unsplash, Smiling white dog: Marek Szturk, Unsplash, Small dog, Kim. Becker, Unsplash, Brown dog: Fox, Unsplash
Sources:
[1] Kyllar, M., & Witter, K. (2012). Prevalence of dental disorders in pet dogs. Veterinární Medicína, 50(No. 11), 496-505. doi: 10.17221/5654-vetmed; Gorrel, C., & Rawlings, J. (1996). The Role of Tooth-brushing and Diet in the Maintenance of Periodontal Health in Dogs. Journal Of Veterinary Dentistry, 13(4), 139-143. doi: 10.1177/089875649601300405; Clarke, D. (2006). Drinking Water Additive Decreases Plaque and Calculus Accumulation in Cats. Journal Of Veterinary Dentistry, 23(2), 79-82. doi: 10.1177/089875640602300203; Niemiec BA, ed. Veterinary Periodontology. Ames, IA: Wiley Blackwell; 2013.
You've probably heard them: those sometimes loud gurgling noises coming from your four-legged friend's belly. Sometimes your dog might act uncomfortable, stretching out like a cat (or what's known in yoga as Downward-Facing Dog). Perhaps he stops eating, or you see him eating grass. Sometimes your pup might act like nothing is wrong at all. Should you be concerned when you hear your dog's stomach gurgling? Here's what to know.
What are gut sounds?
The noises you're hearing come from your dog's gastrointestinal tract. The medical term for these sounds is Borborygmi, and what's happening is gas is moving through the intestines. The amount of gas depends on how the normal bacteria in the colon are working on breaking down undigested food. Amounts of gas vary depending on the individual dog, diet, and when the last time food was consumed.
It is normal for the intestine to contain gas, yet sometimes it can move rapidly to the large intestine (colon).
Are loud gut sounds in dogs normal? 
Sounds from a dog's abdomen in most cases are not concerning and can occur as part of the normal digestion process. The gut will also make noise when hungry. Peristalsis occurs after ingestion of food, but also more frequently after a dog's stomach has been empty for about two hours.
When a dog (or human) is hungry, signals from the brain tell the digestive organs to prepare for a meal. Many dogs may have an increase in gut sounds in the morning before they have had a meal, or if they have been fasting for many hours.
Dogs often can ingest too much gas, too, which can also lead them to have increased Borborygmi.
You may notice more noise in the summer, too. Panting due to heat and exercise can cause an accumulation of gas in the gastrointestinal tract. Eating and drinking very rapidly can also cause increased gas.
If your dog seems to be feeling well and has no other abnormal clinical signs, the noises you hear are normal and not causing any pain or discomfort.
When is the noise a concern?
Excessive gas in the gastrointestinal tract causes louder or more frequent gut sounds—and it can lead the intestine to have increased activity and contractions.
If your dog's gut sounds increase in frequency or volume (perhaps you can hear them from across the room), or if your dog shows additional signs of distress, you should consult your veterinarian.
Gut sounds are definitely a concern when they are associated with other clinical signs as gastrointestinal upset is present. These signs include:
Diarrhea
Vomiting
Regurgitation
Constipation
Decreased appetite
Excessive drooling
Eating grass
Distended/enlarged abdomen
Decrease in energy level
Weight loss
There are many potential issues or diseases that can cause loud gut sounds accompanied by the clinical signs mentioned above. After a physical exam, your veterinarian may recommend tests such as blood work, urinalysis, or imaging of the abdomen to find out why your dog is exhibiting these signs.
Note: Dietary indiscretion (when your dog eats something they shouldn't) is one of the most common causes of increased gut sounds in dogs. When the gastrointestinal tract is exposed to something that irritates it—it could be a new food, chew stick, soil, all the countless things dogs like to get into—it will work extra hard to break what has been ingested down. This causes an upset stomach for your pup, as well as gastroenteritis (inflammation of the stomach and intestines), which leads to excess contraction of the intestines. This can then create even more noise from the abdomen. In most situations, gastroenteritis will be mild and often responds to a bland diet and supportive, veterinarian-prescribed care such as anti-nausea or anti-diarrheal medications.
Sometimes dogs consume a toxic substance or something that may cause a blockage in the gastrointestinal tract. There are many toxins dogs can get into, for example, including grapes, raisins, chocolate and human medications. An obstruction of the gastrointestinal tract is also very serious, and in some cases requires emergency surgery to remove the foreign object as it can be life threatening.
When the foreign object becomes anchored in the stomach or intestines, the intestines will try to work extra hard to move this object down the gastrointestinal tract. This will lead to excessive peristalsis—which leads to loud, frequent gut sounds.
Inflammation of the pancreas, or pancreatitis, causes digestive issues that can also lead to excessive Borbyrgmi. The role of the pancreas is to produce enzymes (substances which cause a chemical reaction) that are important in digestion. Pancreatitis in dogs can occur from dietary indiscretion, such as consumption of a fatty meal. Some breeds such as the Miniature Schnauzer and Miniature Poodle, have a genetic predisposition to developing pancreatitis more frequently than other breeds.
Inflammatory bowel disease (IBD) can also lead to abnormal contractions of the intestines. This occurs due to the immune system producing abnormal cells that damage the delicate walls of the intestine. Loud gut sounds, vomiting, diarrhea and weight loss are often seen.
Is there anything I can give my dog for loud gut sounds?
An increase in noise alone does not require any medications or treatment. Check with your vet before administering any medications.
Supplements can sometimes be helpful in supporting your pup's overall health. Those containing prebiotics and probiotics can help maintain healthy gut bacteria—otherwise known as the microbiome. If the microbiome is unbalanced, this may lead to excessive gas in the intestines. Prebiotics are sources of fiber that help with the growth of the good bacteria. Probiotics are the actual live bacteria that are a normal component of the microbiome, in the form of a supplement. These bacteria bind to the cells in the intestines, causing them to release compounds that aid in proper digestion.
What can I do to prevent my dog from having excessive gut sounds?
Nutrition plays a critical role in ensuring your dog has normal digestive health. Finding a high quality food that works for your dog can be difficult. In most cases, veterinarians recommend commercial dog food over home-cooked diets to ensure that all the vital nutrients dogs need are included in the food.
Staying consistent with the chosen diet is important, too. Changing diets too frequently can lead to indigestion. Instead, transition your pup to his new food by adding small amounts to his old food over a period of at least a few weeks. Anytime something out of the normal diet is consumed--whether table scraps, treats, chew sticks or something you did not want your dog to get into—you'll likely hear gut sounds (or even see your pup eat grass).
If your dog develops vomiting or diarrhea, you can try to feed a bland diet of boiled chicken breast and white rice (with no additives) as long as your dog does not have related food allergies. If constipation is an issue, some dogs may do better on a high fiber diet. Adding canned pumpkin to the normal dog food can also help.
If your dog excessively pants while exercising, you may want to take intermittent breaks so gas does not accumulate in the gastrointestinal tract. For dogs that eat too quickly, moistening food, splitting meals, or using food toys can help slow things down. Of course, the best way to keep your dog's tummy healthy (and quiet) is to ensure regular veterinary visits to screen your dog for any potential diseases if the suspicion may arise.
~~~
Photos: 
Feature image: Benjamin Ilchmann, Unsplash
Spaniel in grass: Ralu Gal, Unsplash
Dachsund: Ilona Froehlich, Unsplash

Resources:

Brooks, Wendy. "Inflammatory Bowel Disease in Dogs and Cats - Veterinary Partner." Veterinary Information Network, Jan. 2001.

Brooks, Wendy. "Pancreatitis in Dogs - Veterinary Partner." Veterinary Information Network, Jan. 2006.
After months of stay-at-home orders where your pets may have been thrilled with your companionship, they may have missed out on some quality activity time as many dog parks and other public spaces were closed. Plus, regularly scheduled visits to doggie day care or with pet sitters and dog walkers may have been put on hold, which may also have cut down on important pet exercise time.
And even now as states are reopening, individual comfort levels with being in groups at dog parks or close contact with others may make a return to regular exercise habits something that won't happen for the foreseeable future. (Here's a helpful guide to see where your state stands on what is open.) So it's important to find ways to add exercise for your dog into your routine to keep you both active now.
"Dogs need exercise every day," says Rosemarie Niznik," DVM, CVA, CVSMT, a veterinarian in Bristol, WI. "It's good for their physical wellbeing and weight management, as well as their mental health," she says. "You need to keep a dog moving. They love to walk—it's almost how they meditate."
And just like humans, exercise can help relieve stress in pets, explains Sylvalyn Simpson, DVM, a veterinarian in Austin, TX. "If dogs have too much pent-up energy and don't receive the appropriate amount of exercise, it can lead to behavioral disorders, destructive behavior, or uncontrollable barking," she says.
 So what's the appropriate amount? There are three things you need to keep in mind: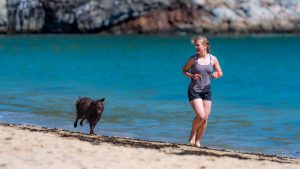 Your dog's breed:
Dr. Niznik says to think of what your dog was bred for when considering the amount and type of exercise that's best for your dog. If your pup was designed to herd or is a member of the working group, they'll have lots of energy and endurance so you'll need to keep them mentally and physically engaged more than other dogs.
If you picked a dog with a short snout like a pug, bull breed, Boston terrier, boxer, or shih tzu among others—these are brachycephalic breeds. This literally translates to short-headed. These dogs have flattened faces that appear to be pushed in, and as a result have smaller airways which makes it harder for them to cool down. Dr. Niznik says these breeds can benefit from exercising indoors or during the coolest parts of the day to avoid overheating.
Deep-chested dogs like Doberman Pinschers and Great Danes shouldn't exercise right after a meal because they are at risk for a condition called gastric dilation-volvulus. This type of bloat can develop after large meals and can be life threatening.
Your dog's age:
Puppies by nature are going to require more stimuli and be more engaged and curious, says Dr. Simpson. They have higher energy levels and will need to divert that energy into physical and mental activity. In general, the younger the dog, the more frequently you'll need to exercise—but you can keep your sessions shorter.
"With puppies you have to be careful with running on hard surfaces," Dr. Niznik warns. "You shouldn't take them on long hard runs until their joints stop growing." Most puppies shouldn't run until they are at least a year old. This is especially true with larger breeds like Saint Bernards and Great Danes whose growth plates don't close until they are about two years old.
And of course senior dogs have likely slowed down a bit. According to the American Animal Hospital Association, senior years are the last 25 percent of a dog's life expectancy, so depending on the breed this can be as early as when a pooch is 7 or 8 years old. When your dog is in its senior years, go for shorter periods of exercise at a gentler pace to help maintain muscular and cardiovascular health without pushing too hard.
Your dog's weight:
According to Fetch by WebMD, up to (a whopping) 50 percent of dogs are overweight. And if this is your dog, your instinct may be to get them moving as much as possible. However, this could be actually be harmful rather than helpful to your pup's health. Suddenly increasing activity levels can stress your dog's joints, spine, and cardiovascular system. It's important to avoid overexerting a dog who's not used to activity.
Just as with humans, exercise combined with a healthy diet is key in helping your dog maintain an ideal weight. Increasing activity levels can help manage the risk for health conditions like diabetes, arthritis, endocrine disorders, high blood pressure, and cancer. But too much exertion can be unhealthy. It's best to start out slow and exercise your dog in small amounts and build up over time. And with an overweight dog, it's important to monitor them for signs of getting overheated if you're exercising outside. (If your dog starts acting lethargic or panting more than usual, stop and offer some water! If your pet lays down, be sure to get your dog inside immediately and provide a way for him to cool down.)
General pet exercise guidelines: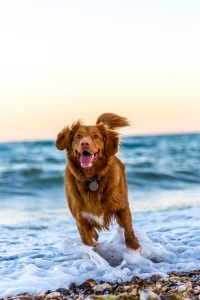 No matter your dog's breed, age, or size, there are some guidelines everyone should follow when it comes to exercising your dog. 
Talk to your vet
Before you put your dog on an exercise plan, make sure you consult with your veterinarian. Dr. Niznik says your vet can ensure your dog doesn't have any underlying heart conditions that could limit his ability to exercise. You should also be aware of any kidney disease or liver disorders that would be worsened with physical activity.
Plus, your doctor can spot joint and back issues that might limit the activities you want your pup to partake in. "In general you should consult with your vet to make sure there's nothing abnormal you need to be aware of before starting a new exercise plan with your dog," she says.
Your vet can also advise on when is a good time to start giving your dog supplements. "If you have a dog predisposed to hip dysplasia or arthritis, it's good to do preventative care before the damage is done," Dr. Niznik says. She often puts dogs on glucosamine or chondroitin when they are three or four years old for joint protection. Dr. Niznik says that Omega-3s can also provide anti-inflammatory benefits that help protect the knees.
Take it slow
"Walking half an hour twice a day is ideal," Dr. Niznik says. But you can break this up into four 15-minute walks. You can keep the pace slow for older or smaller dogs. The key is to pay attention to your dog and stay at a pace that's appropriate for him. "Your dog wants to please you and won't stop until it's too late and exhaustion sets in," Dr. Niznik says. "In the summer you risk overheating."
Dr. Simpson suggests going for more frequent games of fetch or several short walks rather than one long run. This helps you build a more realistic routine that you both will stick to.
Know when to stop
Look for signs that you're overdoing it like excessive panting. "When your dog's tongue starts to hang out much longer and turns into a spoon shape, that means he's getting overheated," Dr. Niznik warns. "Also if your pup is slowing down or if his face looks stressed, these are warning signs you need to take a break and let your dog cool down."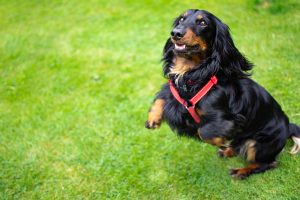 Be prepared
Before you set out for any form of exercise with your dog, make sure you've trimmed his claws. You want to avoid risking snagging or tearing them on anything which can lead to a painful and sometimes serious injury. Dr. Niznik warns that a torn nail on a walk could turn into an emergency.
It's also important to ensure you're current on any flea and tick medication even if you're just going on backyard playdates. The threat from parasites and disease is one you don't want to have to worry about every time you leave the house.
If you're headed out in the heat, always pack water for your pup. You should make sure you're prepared to help cool them down. They will be happy to have some to sip, and you can also use it to cool off the pads on their paws to help regulate their temperature.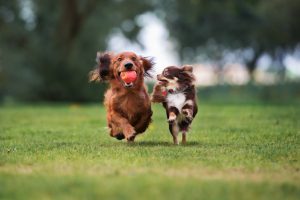 The good news is exercising with your dog doesn't require an elaborate plan. Here are the best ways to keep them moving:
In your apartment:
Try a modified form of horse training the American Kennel Club recommends called cavaletti. Set up an obstacle course with pool noodles or PVC pipes, and have your pup step over them in different formations and heights. Or set up your own improvised obstacle courses with sofa cushions and guide your dog through them with a treat. If your dog is able you can play fetch on the stairs or roll a ball across the floor.
In your yard:
Fetch is a great option but stick to a ball or a Frisbee. Dr. Niznik has seen dogs get injured with sticks. "Not only can a dog pick up a stick and chew it which can damage its mouth," she explains, "but it's possible for a stick to go down its throat and get lodged in the esophagus—especially if the dog is running at a high speed."
You can also set up obstacle courses outdoors for more agility work and mental engagement for dogs that need more stimulation.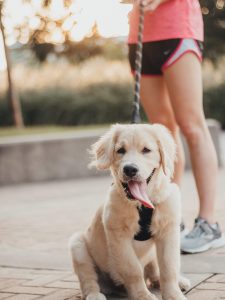 On the sidewalk:
"Walking is fun and easy for you and the dog—it's one of the best things you can do," Dr. Simpson says. "You should try to go on one walk a day outside of the house or yard to decrease boredom for your dog and reap all the benefits of exercise."
Allow for sniff breaks—you don't have to keep a high-intensity pace the entire time.
The American Kennel Club suggests walking with a sturdy, non-retractable leash for more control, and a harness rather than a collar to avoid stressing the neck. If you're going for a run, check with your vet to make sure your dog's age, size, and breed are suited for it.
On the trail:
"Trails are usually nicer for walks because they are usually more shady and the ground is dirt or grass rather than asphalt," Dr. Simpson says. These are great ways to work on your dog's agility by letting them walk on uneven terrain and experience different stimuli.
Dr. Niznik suggests keeping your dog on a lead because they're like kids and will naturally want to run without thinking what's on the other side of a rock or cliff. And there is a risk of snakes or other wildlife that could also cause your dog to act unpredictably. Keep your dog with you at all times to avoid trouble.
In the water:
"Swimming can be extremely beneficial because you can get a full-body workout with minimal stress on joints—and they stay cool," Dr. Simpson says. She advises putting your dog in a life jacket and staying with them at all times in the water. "Swimming isn't intuitive for all dogs and stockier dogs tend to sink," she says. "But a life jacket is a huge help so they can enjoy the water."
You can play fetch or keep-away in the water just as you do on land and will soon have an exhausted and happy pup.
~~~
Tell us: What are some of your dog's favorite types of exercise and activities?
Fleas and ticks can cause serious diseases that are common in dogs, and exposure to these parasites can be a public health concern. In fact, flea populations have grown significantly as more people own pets. The amount of outdoor and feral cats has also increased, for example, which helps fleas survive outside. 
Tick populations have evolved, too, due to a number of factors including climate change, forest destruction and changes in migratory animal patterns. The deer population has grown exponentially over the last 20 years, for example, which has caused a boost in tick population. 
So Where do Fleas and Ticks Live? Everywhere.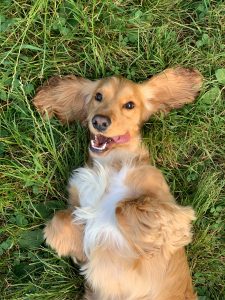 Fleas are especially insidious. There are 2000 different species found all over the world. A common myth is that fleas do not cause serious problems like ticks, but unfortunately they can. The cat flea, Ctenocephalides felis, is the type that affects our dogs and other pets in almost all cases. 
Fleas feed on the blood of a warm-blooded host just like ticks, and this can include humans. So it's important to keep your pets flea and tick free. The good news? Flea and tick issues are generally completely preventable. Here's what to know:
Flea and Tick Prevention 101:
Your veterinarian should recommend a type of prevention based on your dog's age, health history and geographic location. Your dog's lifestyle is also important to consider. For example, if you take your dog camping and hiking, they may be at higher risk. 
Ideally, you'll use one product that can effectively kill and prevent both fleas and ticks. This is more affordable and decreases the total amount of treatments you'll need to administer. The following are some options:
Tablets, collars and topical preventatives are well studied and what most veterinarians recommend. Most tablets are chewable and palatable, and depending on the type, they are effective for 30-90 days. Products such as Nexgard, Bravecto and Simparica are commonly prescribed and have been shown to be highly effective and safe. There is a low rate of side effects including gastrointestinal upset, which can occur with giving any type of medication or supplement. Neurologic side effects have been rarely reported, but tablet preventatives should be used cautiously with dogs that have a history of seizures.
Prescription flea and tick collars typically last for at least six months. Seresto is the most commonly prescribed, lasting up to eight months. No significant side effects are reported but some pets may have skin irritation from the collar or scratch excessively at their neck, and cause skin abrasions.
Topical prescription products are another option, and include Advantage, Advantix, and Vectra 3D. Most topicals should not be used on dogs who frequently swim, as the water can remove the products. 
Sometimes localized skin irritation at application site can occur. Other side effects are rare, but it's still wise to use these products cautiously if your dog has a history of seizures. 
Interestingly, topical preventions should be avoided for Scottish Terriers, as it has been shown they may increase the likelihood of developing a type of bladder cancer called Transitional Cell Carcinoma
If you prefer natural alternatives, it's important to note that there is limited data available with regard to the products' effectiveness. Lemongrass oil is a common ingredient found in non-chemical products, and you may find lavender, too. Most veterinarians do not support the use of natural products as a safe way to prevent fleas and ticks, however, due to the limited studies available. In fact, many natural products contain essential oils which may trigger seizures in dogs, so consult with your veterinarian before using these products just as you would any other. 
There is another topical we haven't yet discussed: Bathing! A good wash does not prevent fleas, though medicated shampoos and even dish soap may be effective at killing fleas on your dog's skin. 
How do You Know If Your Dog Has Fleas and Ticks?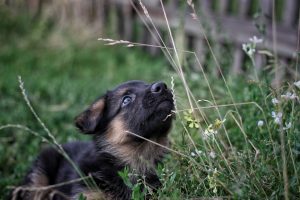 Ticks can sometimes be easy to spot, as they fill with blood. Some flea symptoms are not as easy to see, however. If a dog has fleas, he might scratch at his belly, though not every dog will feel itchy. Often, it's the dogs who are allergic or sensitive to flea bites who experience skin discomfort. 
Dogs with fleas sometimes experience hair loss—usually from the back half of the body. You can also look for small, black spots near the base of the dog's tail. This is often called "flea dirt," and is usually specks of your dog's blood, or the flea's feces. 
Common Diseases Caused by Fleas: 
Anemia: The most serious consequence of fleas
Once a flea attaches to a dog's skin, it starts to suck blood—and unfortunately, blood loss can lead to anemia, which is a low red blood cell count. Anemia can be a life threatening condition, as red blood cells play a critical role in the body delivering oxygen to vital organs. 
Fortunately, flea anemia generally only occurs in certain cases: large infestations or in puppies, toy dogs, and those that may already have diseases anemia-causing diseases, such as cancer or immune system issues. It takes a lot of blood loss and a severe infestation to cause anemia. If your pet does become anemic, it is generally treatable with blood transfusions and medications to remove fleas quickly. 
Flea-related skin issues: The most common dermal ailment
Fleas can cause flea-allergy dermatitis (FAD), which is when the immune system overreacts and causes inflammation and secondary skin infections. Flea-allergy dermatitis is usually the top reason dogs are seen for itchy skin. 
It's most common in the summer, but can be seen year round. When fleas attach to your dog, they inject saliva under the skin and insert compounds that cause dogs to be itchy pretty quickly. Some extra-sensitive pooches feel itchy within 15 minutes, yet for other dogs it can take a few days. 
FAD is so unfortunately common because the canine immune system has a low tolerance to flea saliva exposure.
Note: Secondary skin infections can sometimes occur, which lead to hair loss and damage to the natural skin barrier. Your veterinarian will prescribe oral and/or topical antibiotics based on the extent of the infection. Although many antibiotics used for the skin are relatively safe, it's important to know they may cause your dog to have gastrointestinal upset, decreased appetite and lethargy. Some antibiotics can have more serious side effects and your veterinarian will be careful in prescribing based on your dog's general health. The more times antibiotics are administered, the more likely other types of resistant infections can occur in the future.
Tapeworm: The secondary parasite.
Fleas can carry the gastrointestinal parasite, Dipylidium caninum, commonly known as tapeworm. In fact, fleas are the only way tapeworms can infect dogs. 
The parasites can cause illness by removing important nutrients from the intestines, leading to weight loss and gastrointestinal issues. Tapeworms can grow up to one foot long within the intestines. 
Tick-borne diseases: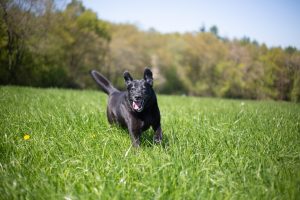 Ticks are can attach to the skin of animals and people, and they're capable of transmitting a variety of diseases that can be serious and even fatal. Ticks generally need to be attached for 48 hours to transmit disease, so quick removal is important. 
What to do if you see a tick on your dog
If possible, visiting your veterinarian for proper tick removal would be ideal, because it can be easy to leave the tick's head embedded in the dog's skin.  
Tick-borne diseases are diagnosed with a blood test, but the disease may not be evident in the blood immediately. In early stages, most tick-related diseases are treatable. Often the earliest common sign of a tick-borne disease is lethargy due to fever. If you see a tick, the best thing to do is to see your vet. 
Lyme Disease: The Most Common Tick-Related ailment
Lyme disease is caused by the Black-Legged tick which is unfortunately active year round. The tick can survive freezing temperatures and is most prevalent in the Northeast, Midwest, Florida, Canada and along the west coast. 
First off, if you notice a tell-tale bullseye rash, take your dog to the vet. Other signs of lyme disease may include: lethargy, weight loss, lameness on one or more limbs and swollen lymph nodes. 
Unfortunately Lyme disease can be fatal if the infection travels to the kidneys and certain cells that help blood clot appropriately. Luckily, there is a vaccine to prevent Lyme disease and treatment is possible in early stages with antibiotics.
Ehrlichiosis is carried by the American Dog Tick, Lone Star Tick and Brown-Dog Tick, which are found worldwide. Most cases occur in spring and summer. Signs include decreased appetite, lethargy and sometimes bruising or bleeding from the gums or nose due to the destruction of platelets. Ehrlichiosis must be treated in its early stages for a favorable outcome. Unfortunately, late stage treatment carries a poor prognosis.
Anaplasmosis occurs after a bite from the Brown-Legged Tick. Most cases occur in summer but have been reported every month. There are two types: One seen in the Northeast and Midwest, and the other in California and coastal states. The signs and prognosis are similar to Lyme disease.
The American Dog Tick or Rocky Mountain Wood Tick transmits Rocky Mountain Spotted Fever. These ticks are found in North, Central and South America. Infection can occur as soon as five hours from when the tick attached. Signs are non-specific and include decreased appetite, abdominal pain, lethargy, and facial swelling. Sadly, the fatality rate has been reported as high as 10%.
In summary, the most effective way recommended by veterinarians to prevent flea- and tick-related diseases is to find an appropriate product for your pet that safely kills and prevents fleas and ticks. Your dog's health is worth it!
Tell us: What is your favorite flea and tick preventative? Let us know in the comments. 
~~~



Brooks, Wendy. "Flea Anemia in Cats and Dogs - Veterinary Partner." 

Veterinary Information Network

, 21 Apr. 2019.





Brooks, Wendy. "Tapeworms (Dipylidium Caninum) in Dogs and Cats - Veterinary Partner." 

Veterinary Information Network

, Jan. 2019.





"CDC - DPDx - Fleas." 

Centers for Disease Control and Prevention

, Centers for Disease Control and Prevention, 8 Dec. 2017.





Dryden, Michael W., et al. "Flea Allergy Dermatitis - Integumentary System." 

Merck Veterinary Manual

, Merck Veterinary Manual, Dec. 2014.





"Flea and Tick Control Products for Dogs and Cats - Veterinary Partner." 

Veterinary Information Network

, 21 Nov. 2019.





Knapp, Deborah. 

Canine Bladder Cancer

. Purdue University, Apr. 2013.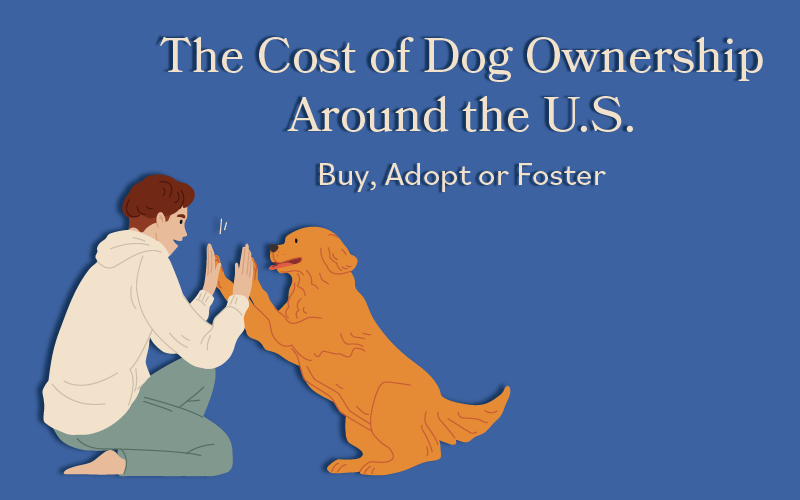 Because of the climate surrounding COVID-19, the world is craving social nourishment and peace of mind. Remote work, countless hours at home, and the fact that animal shelters and rescue centers are at full capacity are all circumstances that prompt the question: "Should I buy, adopt, or foster a dog?" Dr. Evan Shaw, a Brisbane, Australia-based veterinarian observed that he's seen "...a huge increase in fostering and adoption inquiries over the past 8-12 weeks." 
Before diving into the waters of pet ownership, it's beneficial for potential owners to understand associated costs, whether ownership is temporary or permanent. We put our heads together to determine the true costs for new owners upon buying, adopting and fostering dogs within 50 major cities across the U.S. 
Our Methodology
To estimate the total annual cost of dog ownership in each city, we analyzed several factors associated with buying, adopting and fostering dogs including:
Average purchase price
Average adoption fee
Average annual vet bill (within the first year)
Average annual licensing fee 
Average annual food costs
Average annual cost of startup supplies
Average annual cost of toys and treats
Average annual cost of a dog walker
Vet bills within the first year of ownership differ widely between buying versus adopting or fostering, primarily because initial vet bills typically include the cost of spaying/neutering, vaccinations and flea/tick prevention. With adopting or fostering a dog, these expenses are typically already taken care of by the shelter or rescue center, so new owners need only worry about the cost of routine exams. 
"Most reputable rescues will pay for all preventative medical expenses, surgeries and monthly food if you foster a dog," says Lorraine Price, Adoption Coordinator at the Southeast German Shepherd Rescue. "Some dogs can cost upwards of $2,000, while our adoption fee is only $250." 
Some rescues cover routine care items, too. "We cover medical care items such as heartworm treatments," says Shelby Lassiter at Paws for Life. "If foster dogs need medications to treat conditions, we pay for that, too." 
To estimate average adoption fees, purchase prices and the average cost of a dog walker, we calculated mean prices from several zip codes per city using data from the American Kennel Club, the ASPCA and Rover.com. To estimate average annual food costs, we averaged dog food prices among three different price ranges: cheap, mid-range, and premium, for six, 28 lb. bags per year.
The cost factors are listed below with their respective source data:
Average purchase price
Source: DogBreedsList.Info & American Kennel Club (AKC)
Average adoption fee
Source: ASPCA
Average annual vet bill (within the first year of owning)
Source: Banfield Pet Hospital
Average annual licensing fee
Source: Individual .gov city websites
Average annual food costs
Source: Amazon
Average annual cost of startup supplies
Source: American Kennel Club (AKC)
Average annual cost of toys and treats
Source: American Kennel Club (AKC)
Average annual cost of a dog walker
Source: Rover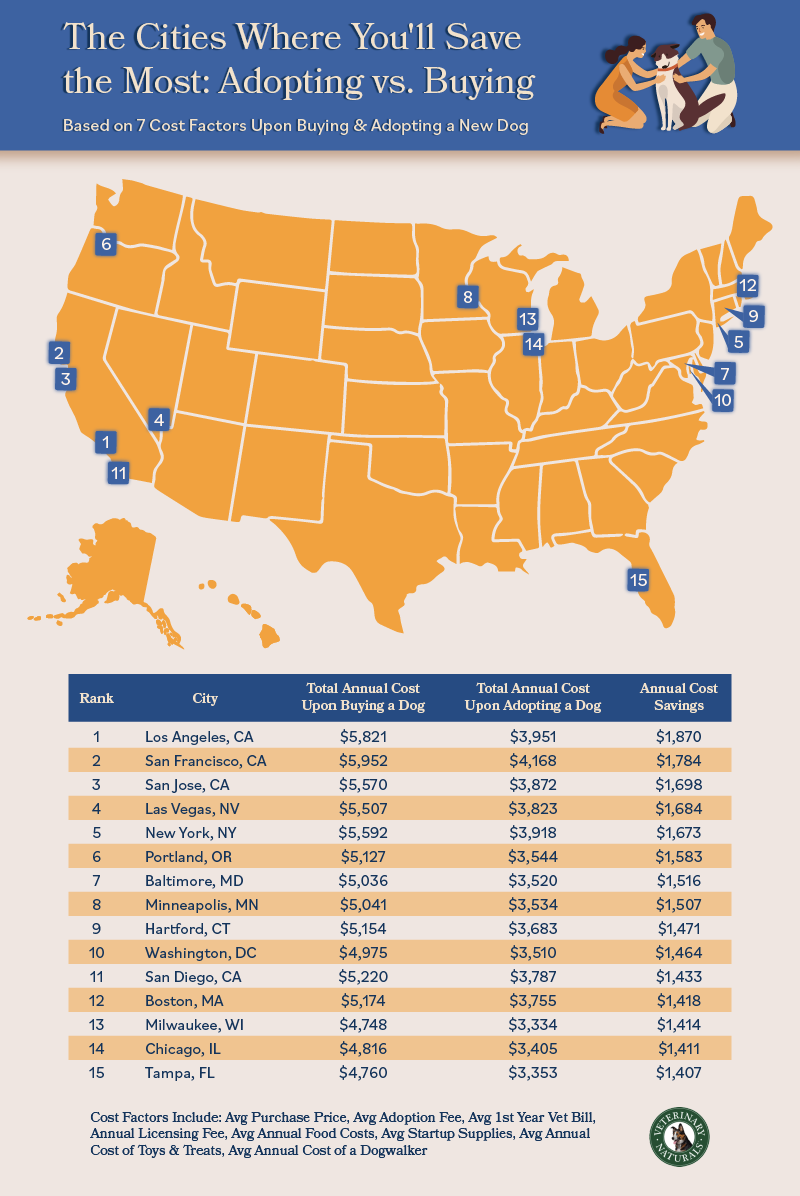 The top three cities where you'll save the most adopting versus buying are all located in California: Los Angeles, San Francisco and San Jose. In Los Angeles, the average purchase price of a dog from a breeder or pet store hovers around $1,966, while the average adoption fee is $450. Annual cost savings are also high in cities like Las Vegas and New York City, with $1,684 and $1,673 annual savings respectively.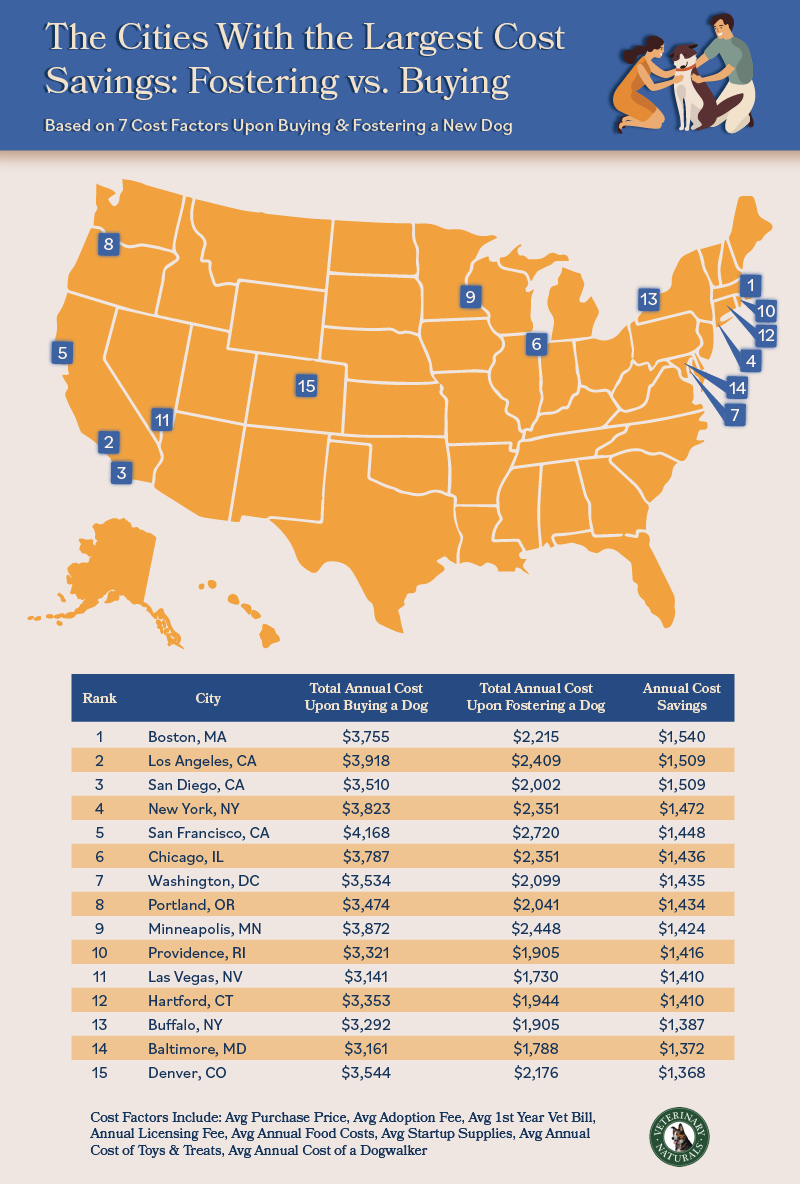 Fostering a dog is quite cost efficient. Factors like medical care, start-up supplies and food are all covered by the shelter or rescue center and therefore, the foster parent needs only to cover necessary "extras" such as supplemental supplies, toys, treats and dog-walking fees. The cities with the highest annual cost savings for fostering versus buying a dog are Boston ($1,540), Los Angeles and San Diego (tied at $1,509), and New York City ($1,472).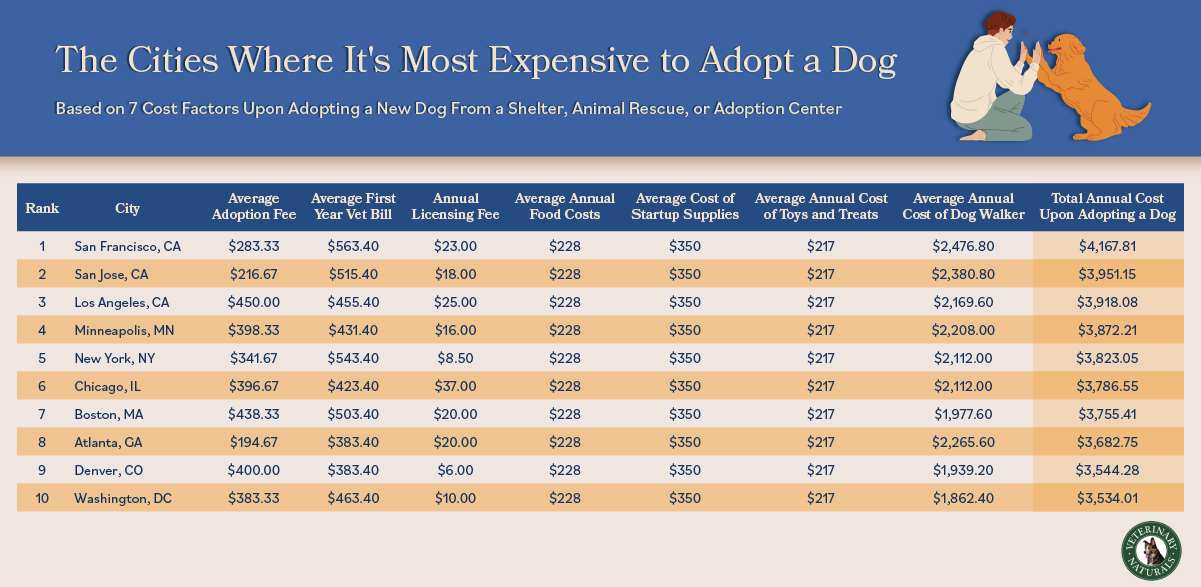 While average adoption fees in cities like Los Angeles, Boston and Denver can range from $400 to $450, dog adoption is a relatively frugal endeavor in cities like Orlando, FL, Memphis, TN and Raleigh, NC—all with average adoption fees under $160. In fact, for $160, you can own a designer dress, a fancy kitchen appliance or a furry friend; the choice is yours!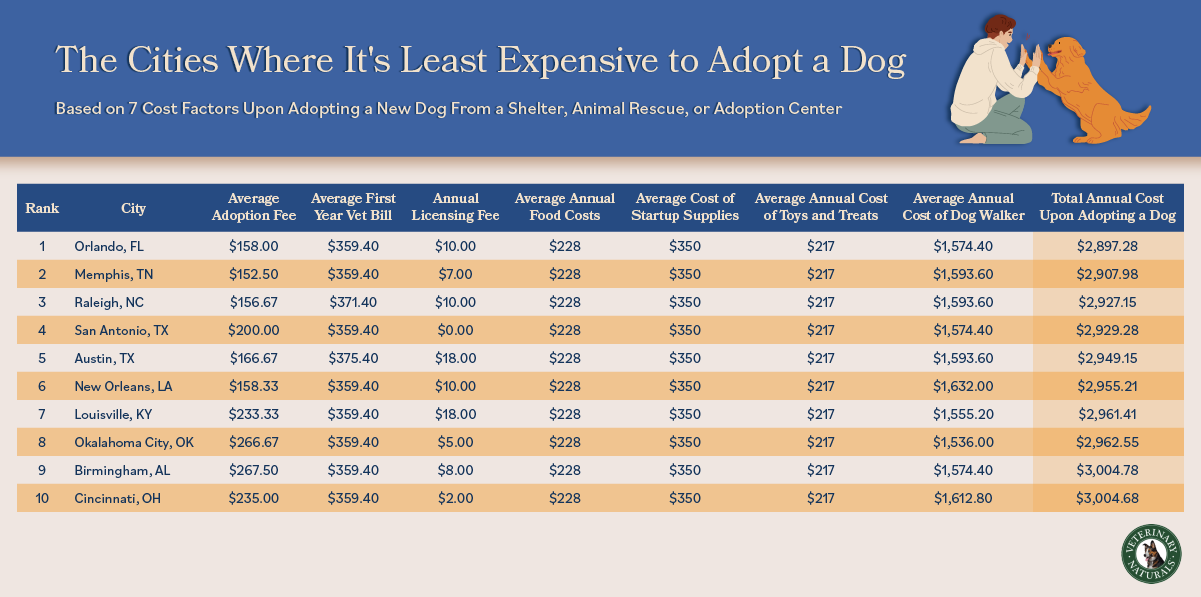 The Cost of Buying A Dog in 50 Cities Around the U.S. 
Want to see how your city stacks up when it comes to dog ownership costs? We've compiled our data for 50 major cities in the United States into the interactive table below. Just click on the heading of each column to sort by that category.
Resources
For more resources and updates during the COVID-19 pandemic, visit: The Humane Society.
For a list of U.S. rescue centers, see the American Kennel Club's rescue network.
When a dog has over 10 million followers on Instagram, it's no surprise that 88 percent of pet owners say they consider their four-legged companion a member of the family. And with that devotion comes the desire to keep our beloved furry companions safe and healthy. That's where pet insurance comes in.
According to the North American Pet Health Insurance Association (NAPHIA), 2.5 million pets are insured in the United States and 83 percent of those pets are dogs.
"Where pet insurance benefits are nice is that veterinary medicine has come a long way in what we can and can't do," says Jerry Scheck, DVM, CVA, CSMT, a veterinarian in Hopewell Junction, NY. "We can do more for pets. Now acupuncture, CAT scans and MRIs are more common. We routinely do knee, brain and heart surgeries. And with those treatments come big expenses. With pet insurance, it makes people more comfortable with saying 'yes.' It allows you a comfort level with extending a pet's quality of life and not worrying about the cost."
But with so many options out there, it can be hard to know if pet insurance is worth it. One way to look at insuring your dog is to consider it a way of planning for an emergency, says Sara Ochoa, DVM, a veterinarian in Whitehouse, TX. "[Pet insurance] is a forced saving account for your pet that will actually pay more if your pet is injured," Dr. Ochoa explains. "This will help give you the peace of mind that you can get your dog whatever medical care that they need whatever the cost."
If you're deciding whether or not pet insurance is worth it for you, here are some reasons a plan for your pup might be a good investment.
1) Pet Insurance Companies Allow You To Choose Your Vet
Unlike human health care, there are few restrictions on who can provide service to your pet. In most cases pet insurance companies don't have in network or out of network doctors so you don't have to worry about searching for available vets, emergency clinic or specialist in your area or shop for doctors who take your plan.
Typically the only requirement is that the veterinarian is licensed. Some insurers may have an additional stipulation that the doctor has joined the American Veterinary Medical Association or the Humane Society Veterinary Medical Association so check with the pet insurance company and your favorite vet before signing up for coverage.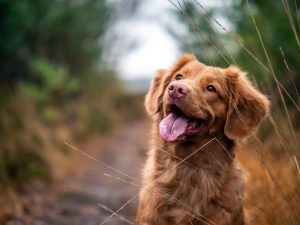 2) You Can Find Affordable Pet Insurance to Fit Your Budget
Most pet insurance is highly customizable so you can decide the amount of coverage you want to invest in. The rates vary depending on your dog's age, breed, size and geographic location.
Value Penguin reports you can pay from $10 to more than $100 a month but most people pay between $30 and $50 a month for pet insurance benefits. According to the North American Pet Insurance Association's (NAPHIA), the average cost of premiums in the U.S. for dogs was about $534, or $43 a month. When it comes to claims, the average was $278 per claim.
What can make pet insurance affordable is that you determine what copay you want to have and how much the pet insurance company will reimburse you. Typical reimbursement levels are 70, 80 and 90%.  And there is usually a deductible that you have to pay out of pocket before the plan will pay any expenses. You can also choose a range of deductibles anywhere between $0 and $1,000. But as it is with human insurance, generally the lower your out-of-pocket costs upfront, the higher your monthly premiums will be.
"It's never once policy fits all," Dr. Scheck says. "It's important that you read the fine print to find something will work for what you need for your pet."
3) Pet Insurance Benefits Cover Lots of Useful Expenses and Unexpected Expenses
When determining if pet insurance is worth it for you, look for the plan options available. Generally you'll be able to select from accident, illness and wellness plans.
An accident plan covers expenses related to your dog getting injured or poisoned. One company covered $2,200 toward a plate and screws to repair a broken leg.
If your dog gets sick, you'll need an illness plan to help cover the costs of cancer treatment. For example, Trupanion reports paying over $13,000 for treatments for a Labrador with lymphoma.
According to an analysis of pet insurance claims by Nationwide Pet Insurance, the most expensive condition to treat for dogs was noncancerous skin masses with an average cost of $347. Skin allergies were the most common condition health issue costing $210 per dog.
For routine care and preventative care like exams and vaccines, you'll have to enroll in wellness coverage that addresses these expenses. "One of the best things that some pet insurance companies cover is preventative medicine," Dr. Ochoa says. "This would be things such as vaccines, spay or neutering, heartworm, and flea and tick prevention."
Some plans include supplements, therapeutic diets and medications if a doctor prescribes them. And there are options that cover alternative medicine, rehabilitative care, physical therapy, and even grooming.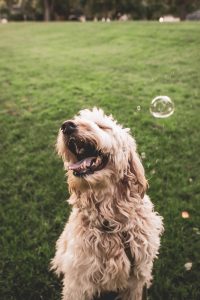 4) Your Dog is Still Healthy
No plan covers preexisting conditions for any illness or injury—so any health issues your dog has before you enroll in a policy won't be covered. That's why it's best to enroll your dog as young as possible for the most coverage.  Any insurer will request records from your vet to see what health conditions have been flagged. As long as you keep your payment current, your pet will be covered under the policy. And as your dog gets older, you may be required to follow guidelines for senior care such as annual visits and certain wellness testing to remain eligible for plans.
As your dog gets older and develops more health conditions, rates can increase. Monthly rates can easily quadruple from a puppy to a 12-year-old dog. And the older your dog gets, the harder it can be to insure your pup. Some companies cut off plans at 10 to 14 years. ASPCA has no upper age limit and Healthy Paws and Trupanion doesn't decrease coverage as pet gets older. When you get a quote for your dog, also get a quote for when your pup is 5 or 10 years older to see how the plan changes.
5) You Have Lots of Options for Pet Insurance Companies
To find the best pet insurance plan for you, you should comparison shop plans with different pet insurance companies so you can do a head-to-head comparison of what the plan costs would be for your pet. Companies will be able to give you the breakdown of the expenses for your dog to make comparison shopping for the best price simple.
The good news is there are several different companies that offer a range of options. Here are five of the best pet insurance companies with highlights of what they offer:
(Sample plans were for a 5-year-old medium size mixed breed male dog in Indiana.)
ASPCA: ASPCA Pet Health Insurance offer comprehensive coverage for accidents, illness, and behavioral issues as well as chemotherapy, stem-cell therapy and acupuncture. Their Complete Coverage plan was $50.24 a month with a $250 deductible and 90% reimbursement. There's an option to add on a preventative care plan for $9.95 or $24.95 a month that covers dental cleaning, wellness exams and some tests. Plus, there's a 10% discount for multiple pets.
Embrace: Embrace Pet Insurance offers a diminishing deductible that reduces your annual deductible by $50 for each year you don't have a claim payment. You can opt for a Wellness Rewards plan that covers up to $650 a year of costs including exam fees, vaccinations, flea and heartworm medication, spay and neuter surgery, microchipping, supplements, grooming and training. For $36.62 a month you can get an accident and illness plan with a $300 deductible with 90% reimbursement. And you earn a 10% discount for enrolling multiple pets.
Healthy Paws: A major perk of Healthy Paws Pet Isurance is that there are no maximum per-incident, annual or lifetime payouts. They cover hereditary, congenital and chronic conditions. And will include payment for diagnostic treatment, X-rays, blood tests and ultrasounds. Healthy Paws also earns high customer reviews for speedy processing of claims. For $41.77 a month you can buy plan with a $250 deductible and 80% reimbursement.
Nationwide: As the first pet health insurance company (they insured Lassie in 1982), Nationwide is the largest provider. Their Whole Pet with Wellness plan offers unlimited annual benefits and covers hereditary and congenital disorders. And their comprehensive plan includes behavioral treatments and diagnostic testing as well as medications, nutritional supplements and therapeutic diets that are prescribed by a veterinarian. A comprehensive plan with a $250 deductible and 90% reimbursement is $82.20 a month or major medical is $37.85 a month. (They have a handy comparison tool on their site worth checking out.)
Trupanion: There are no coverage caps or payout limits with Trupanion and you can select any deductible from $0 to $1,000. A $200 deductible with 90% coverage is $88.27 a month. While there's no wellness plan offered, you can opt to add coverage for recovery and complementary care that includes acupuncture, behavioral modification, chiropractic, homeopathy, hydrotherapy, naturopathy, physical therapy and rehabilitative therapy for $11.14 month. Trupanion also offers a direct pay option that covers a portion of the bill at checkout so you don't have to wait for the full amount to be reimbursed.