THE WINNER IS ANNOUNCED!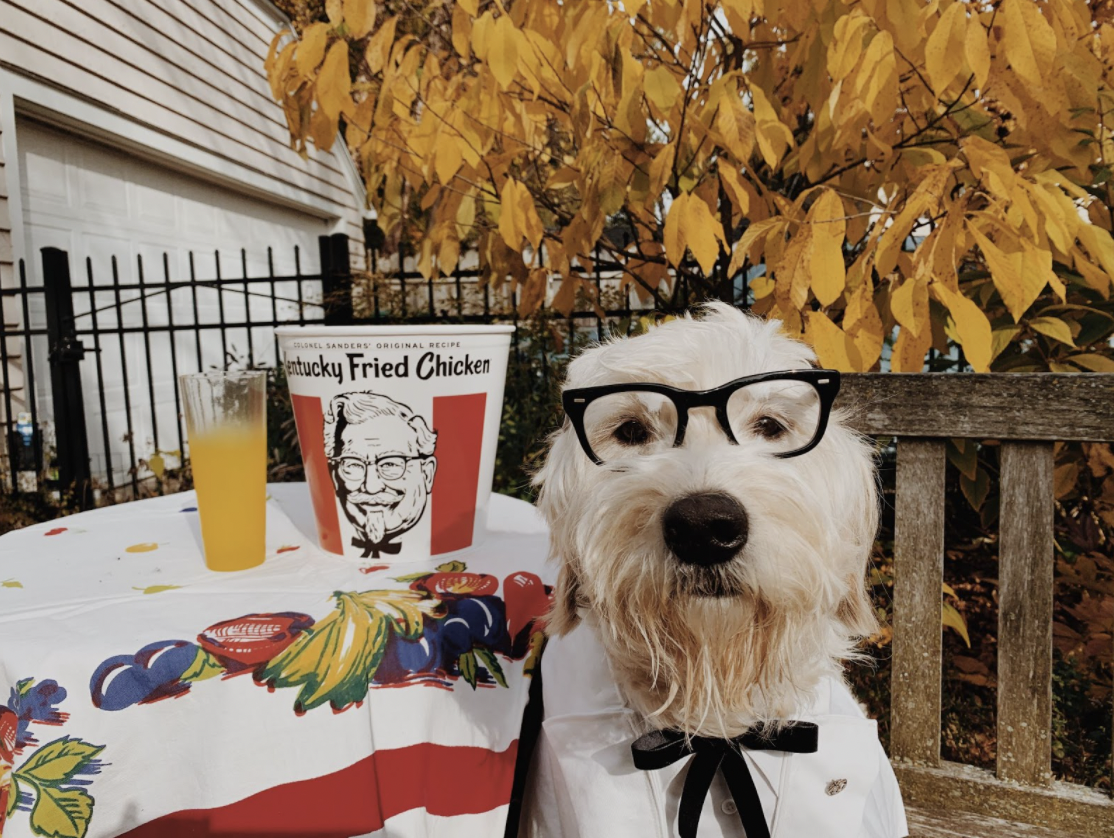 The winner of our ultimate dog photo contest is Stephanie Milanowski of Grand Rapids, Michigan and her pup, Wally! 
Wally (aka The Next Colonel Sanders) is a two-year-old mini Goldendoodle who is goofy, loveable, and "will let you fall asleep hugging him," says Stephanie. When offered a costume, Wally immediately goes into acting mode. 
Per Stephanie, "his cooperation and dedication to the art of acting are admirable! He's incredibly patient when getting dressed or sitting still. He just loves it and jumps right into character, even when he's seated next to a bucket of delicious, crispy fried chicken and a refreshing glass of lemonade!"
Wally's goatee and his expression reminded Stephanie and her husband, Joe, of Colonel Sanders, the founder of Kentucky Fried Chicken. So she stitched a little white suit coat for Wally with a string tie and lapel pin, topped with 1970's eyeglass frames. From there, Wally jumped right into character! 
Congratulations Stephanie, Wally, and family on your winning photo!
Summary
The pups are ready for their close-up! We're pet parents who believe in the healing power of dog photos in our camera roll and their ability to boost our moods. That's why Vet Naturals is thrilled to announce the launch of our first-ever Ultimate Dog Photo Contest where contestants can flaunt their funniest and most outrageous dog photos of their furry friends for a chance to win $1,000, plus a three month supply of Vet Naturals products!
What We're Looking For
We're looking for amusing, meme-worthy photos of your dog. The photo can include crazy eyes, doggy smiles, costumes, props, or funky outfits – you name it! As long as it's hilarious and sparks joy, it's eligible. 
 Either snap a new photo or send us an existing funny photo from your camera roll!
 Don't own a dog? No problem. You can still enter the contest with a photo you took with a family member's or friend's dog. 
 Additionally, applicants must be 18 years or older and a U.S. citizen or permanent resident to apply. 
How to Enter
To enter the contest, contestants MUST FOLLOW THE LINK BELOW to the entry form where you'll be asked to upload your photo. The page also requests your name and email address, so that we can notify the winner, once one has been selected.
Any contestants who do not complete the entry form by following the below link will not have an official entry into the contest. 
For contestants who have a Facebook or Instagram account, please share your dog photo with us either on the Vet Naturals Facebook page or post your photo as an Instagram post, tagging the Vet Naturals Instagram within your post. Spread the word to your social media friends and family about the contest and your entry, so that they can witness your dog's hysterical photo as well!
The deadline for contest submissions is Friday, April 9, 2021. Contestants will need to submit their dog photos via the below link by that date in order to be considered. After this date, no further entries to the contest will be permitted.
What'll You Get
The winner will be announced on Friday April 23, 2021. The winner will receive a $1,000 payment as well as a three month supply of Vet Naturals Hemp & Hips products.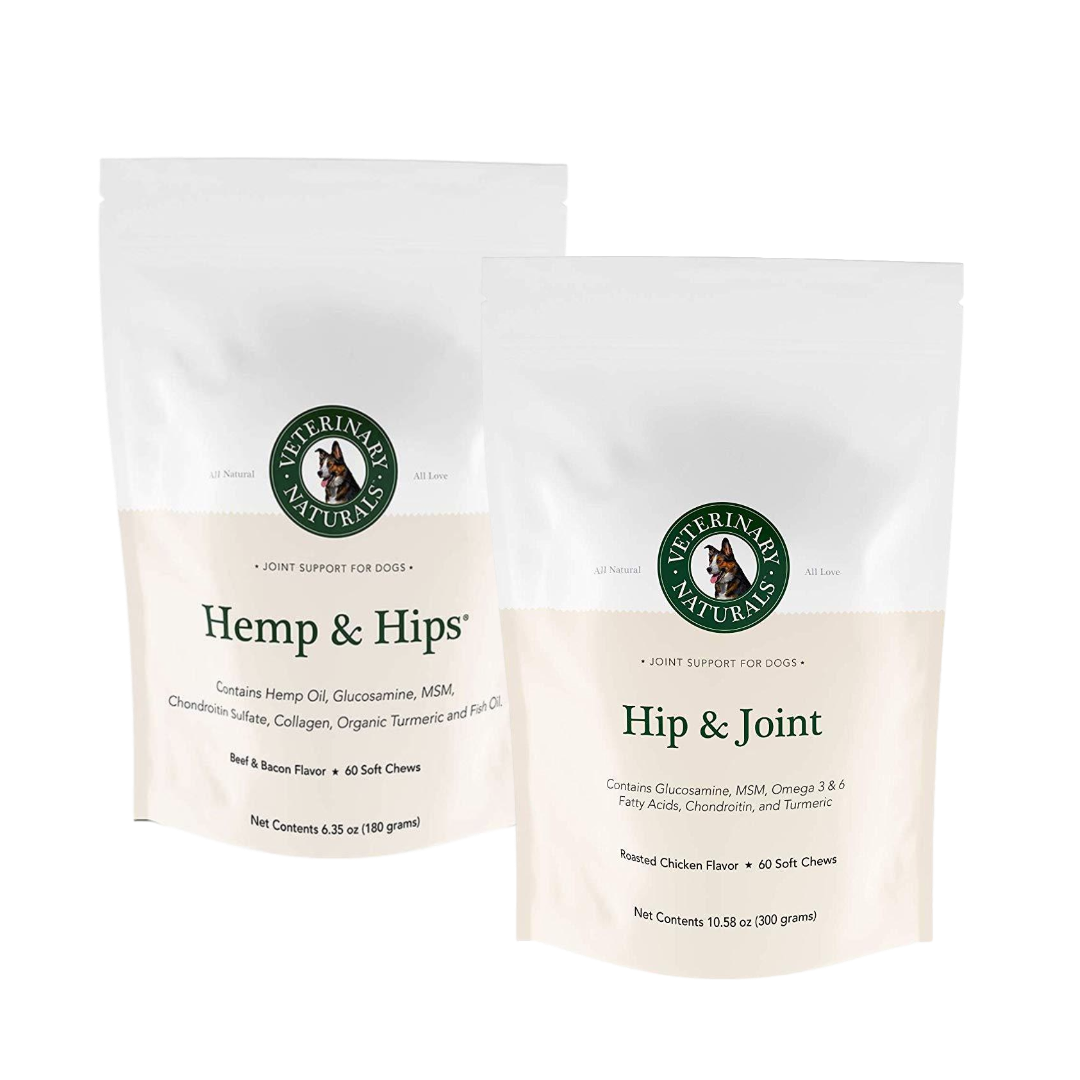 Hemp & Hips provides joint nourishment to help rebuild, support, and maintain healthy joints – even as our dog's age. This natural relief also makes sure our dog's joints are protected, keeping them healthy, flexible, and lubricated, while naturally reducing those aches and discomforts.
Contest Terms and Conditions
The rules of the competition and the prize for the winner are as follows: 
The promoter of this competition is Vet Naturals LLC whose principal office is located at

6916 E 1325 N, Huntsville, UT 84317.

Employees of Vet Naturals LLC or their family members or anyone else connected in any way with the competition or helping to set up the competition shall not be permitted to enter the competition.

Persons must be at least 18 years old, or otherwise have reached the age of majority under the laws of the state where they reside, in order to participate.

Only residents of the United States are eligible to participate.

VOID WHERE PROHIBITED.

There is NO ENTRY FEE AND NO PURCHASE NECESSARY TO ENTER THIS COMPETITION. Any purchase or consideration otherwise given by entrants will not improve one's chances of winning.

The route to entry for the competition and details of how to enter are available via www.vetnaturals.com. Individuals may enter to win by clicking on the participation link on Vet Naturals LLC's website. Upon clicking the participation link, entrants will be asked to provide their name and contact information so that Vet Naturals LLC can notify the winner of the results.

The closing date for entry will be March 26, 2021. After this date, no further entries to the competition will be permitted.

Only one winner will be selected from the entire pool of eligible entries. The selection process will be at the discretion of Vet Naturals LLC. The winner will be required to complete certain tasks designated by Vet Naturals LLC. If the winner does not follow through with the tasks required of them, they will not receive the prize of $1,000 and a three-month supply of Vet Naturals products.

The winner will be notified by email and/or letter within 15 days of the closing date. If the winner cannot be contacted or does not claim the prize within 2 days of notification, we reserve the right to withdraw the prize from the winner and pick a replacement winner.

Vet Naturals LLC will notify the winner when and where the prize can be collected.

The winner will receive a welcome package in the mail.

No cash alternative to the prize will be offered. The prize is not transferable. Prizes are subject to availability and Vet Naturals LLC reserves the right to substitute any prize with another of equivalent value without giving notice.

The winner agrees to the use of his/her name, image, and video in any publicity material. Any personal data relating to the winner or any other entrants will be used solely in accordance with current federal and state data protection legislation and will not be disclosed to a third party without the entrant's prior consent.

The winner's name will be available 28 days after the closing date by sending a stamped addressed envelope to the following address:
Vet Naturals LLC's decision in respect of all matters to do with the competition will be final and no correspondence will be entered into.