Over the past few months, Americans have become remarkably close with their dogs. Stay-at-home orders were made much easier by time spent with furry friends. So, when pre-quarantine routines begin again, it will be harder than ever to leave dogs at home. You might be looking to take your dogs out for date nights, vacations, or simple errands, but will American cities be ready for leash-carrying clientele?
As major dog lovers ourselves, we at Vet Naturals were determined to find out, and evaluated different American cities' dog-friendly status. To do this, we used Yelp data to add the number of dog-friendly establishments per capita in 50 cities across the U.S. We specifically eyed outdoorsy cities given their propensity for a pet-friendly culture.
After that, we chose to analyze establishments grouped into five categories: restaurants, breweries, hotels, beaches, and campgrounds--in order to paint a fuller picture of the dog-friendly culture in city establishments across industries. What we found is that certain cities came out as clear leaders in terms of dog-friendly establishments, while other cities excelled in specific industries only.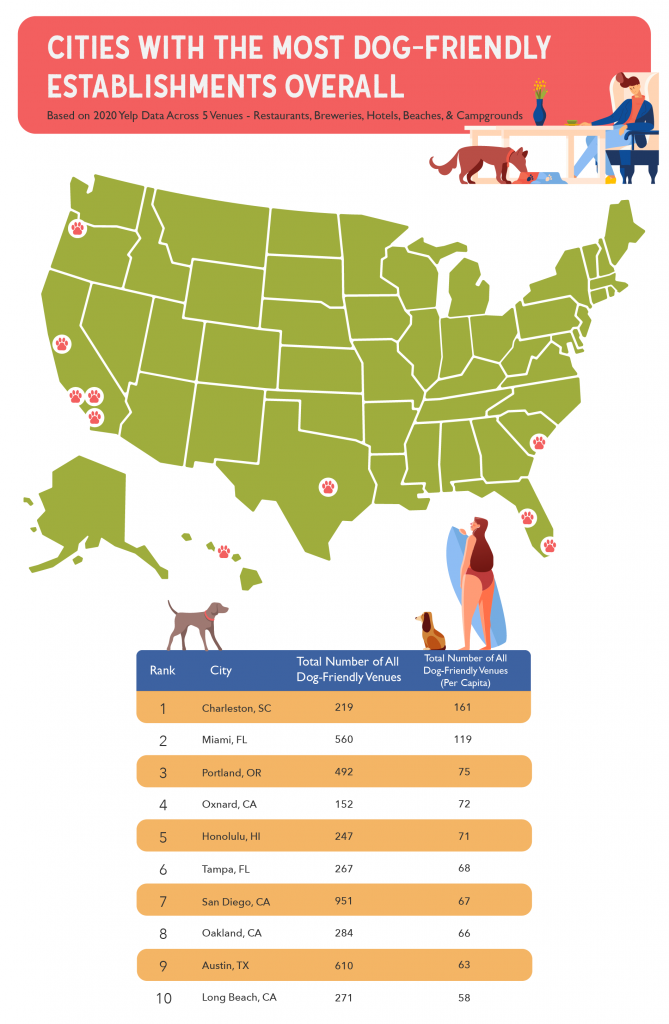 One city emerged as the clear winner for dog-friendliness across different establishments and outdoor sites: Charleston, South Carolina. Famous for its classic Southern charm, Charleston had an impressive 161 venues that were marked as dog-friendly per capita.
Overall, there was no major geographic trend for which cities had the most dog-friendly venues. Proximity to nature, however, was a positive indicator of dog friendliness. The beaches of Miami and wooded trails of Portland likely drive up dog ownership in these cities, pushing venues to open their doors to customers with four-legged friends.
On the other hand, more urban cities had far fewer dog-friendly venues and outdoor sites. New York City was home to the least dog-friendly establishments per capita overall. Other urban centers, like Louisville and Columbus also lacked dog-friendly establishments, despite a fair bit of public parks in these locations.
Still, depending on varying social preferences, individual dog owners may care about the dog-friendly attitudes of specific types of establishments. For instance, a foodie owner would want to know about the amount of dog-friendly restaurants in their city more than dog-friendly campgrounds. For these reasons, we also wanted to look more closely at the cities' dog-friendly cultures across different types of venues.
First, we looked at the amount of dog-friendly restaurants in different cities. Of course, health, sanitation, and etiquette standards may prevent different restaurants from opening doors to dogs. However, given that so many Americans are longing for the reopening of their favorite restaurants during social distancing, the amount of dog-friendly restaurants might be of timely importance to dog-owning diners.
The top-ranking cities followed the general dog-friendly trends--with Charleston and Miami coming out on top. The restaurant scenes in both of these top cities are some of the largest in the nation, famous for their Southern and Cuban cuisines, respectively. Therefore, it's no surprise that the food lovers in these cities would be happy to see dog-friendly signs at their favorite eateries.
A surprising insight from this data set is that Honolulu, Hawaii also hosts many dog-friendly restaurants. Perhaps the famously accommodative attitude of Hawaiians is the reason why so many restaurant owners in Honolulu are willing to open their doors to dogs. It's the Aloha spirit.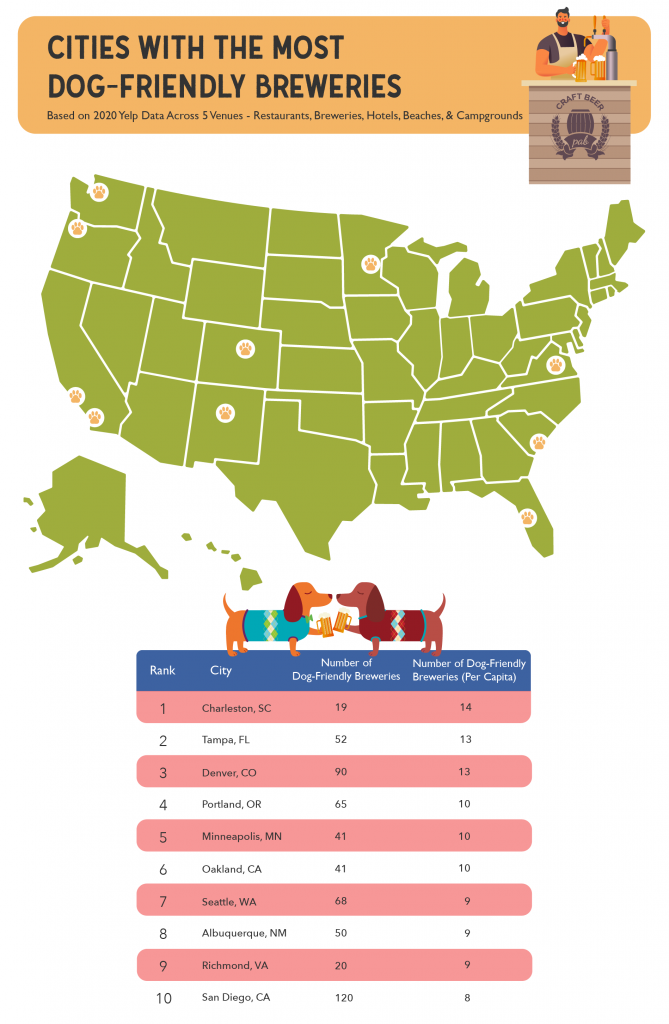 Next, we took a closer look at the cities with the most dog-friendly breweries. Given that some breweries have built up their brands and fan bases by publicizing their love of dogs, we thought that this insight would be especially meaningful to many beer-loving dog owners.
Not surprisingly, we found Charleston is home to the most dog-friendly breweries, with nearly 14 dog-friendly venues per capita. Tampa boasts an impressive 13 breweries per capita and Denver hosts 12 breweries per capita that are open to dogs. Given Denver's reputation as "The Napa Valley of Breweries," surely many Denver residents are counting the days until they can bring their dogs out for a hike followed by a pint with friends.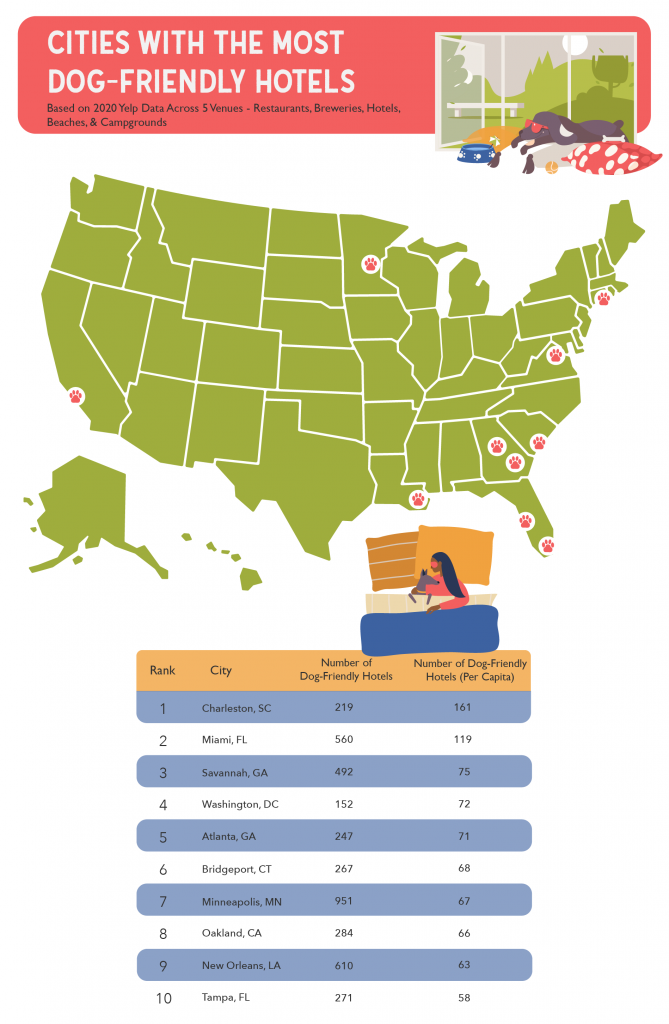 Of course, given that so many Americans will be looking to travel far away from the repetitive scenes of their cities when social-distancing ends, we also wanted to find the cities with the highest number of dog-friendly hotels per capita.
Charleston and Miami rank highly, which makes sense: Their tourist-destination status means that many hotels are open to dogs. Savannah, Atlanta, and New Orleans also made the top-10 cities with the most dog-friendly hotels, each with at least nine dog-friendly hotels per capita.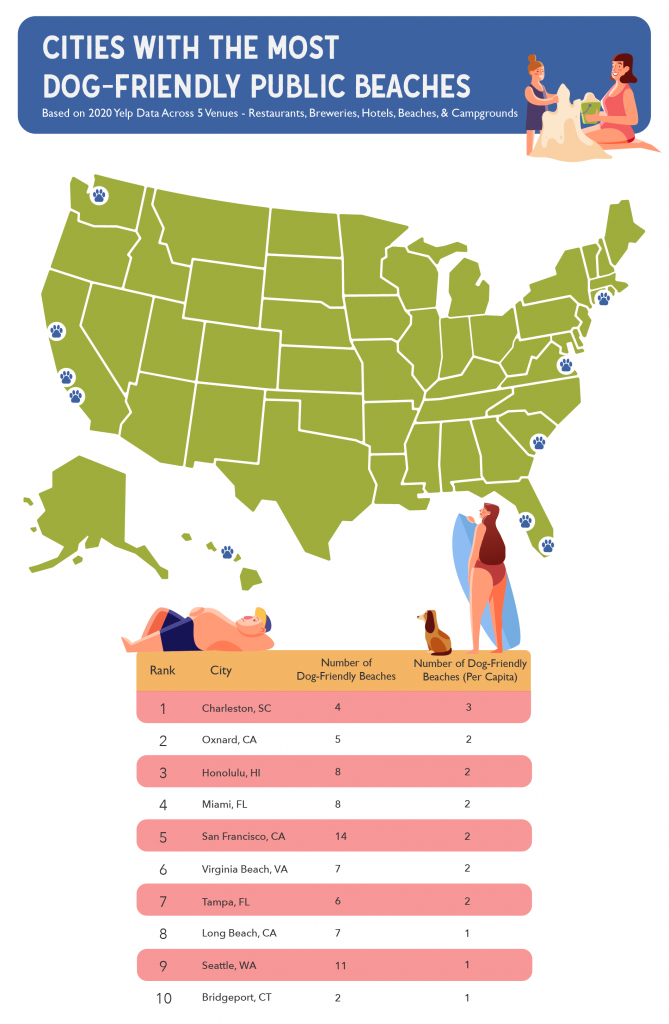 Beach closures this summer to mitigate the spread of COVID-19 were felt not only by humans but also by the dogs used to spending warm days chasing tennis balls through waves.
As it turns out, coastal Charleston once again comes out on top with three dog-friendly beaches per capita. However, the next-highest-ranking cities are located miles away in Oxnard, California, and Honolulu, Hawaii. In fact, Oxnard is home not only to surfing humans, but even some dogs whose videos have gone viral while riding Pacific waves.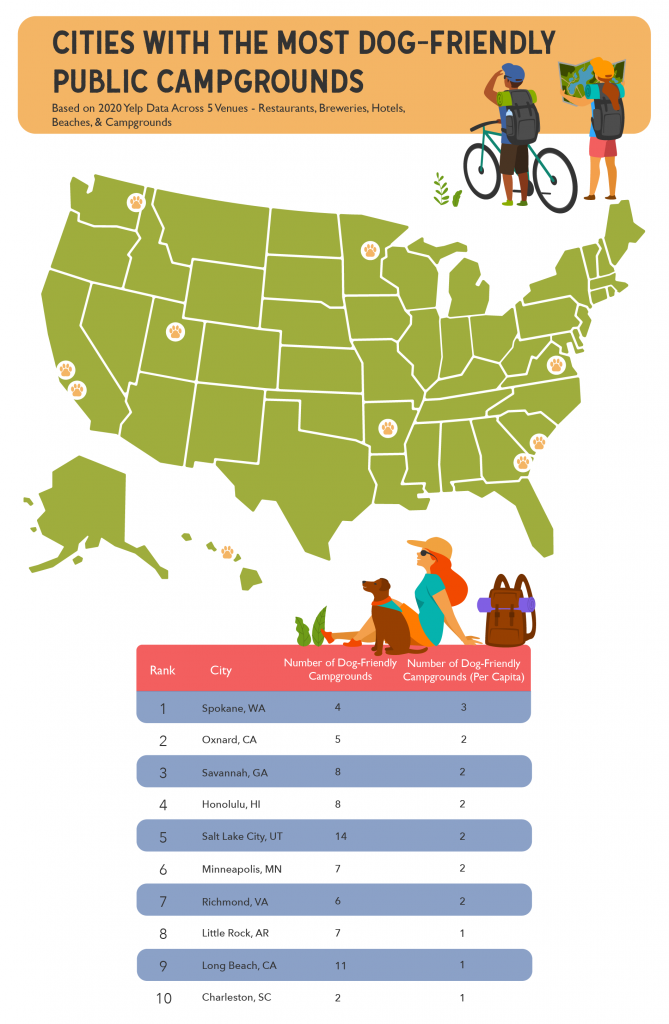 Since some humans and dogs prefer the mountains to the beach, we wanted to look at cities with the most dog-friendly campgrounds. Surprise! Charleston was not the top-ranking city with the most dog-friendly campgrounds. Instead, Spokane, Washington (flanked by the gorgeous Cascade and Rocky Mountains), tops this city list with with nearly five dog-friendly campgrounds per capita. Oxnard, California is next, with over three dog-friendly campgrounds per capita.
In all, our study of dog-friendly U.S. venues makes us happy: There are countless options across the country for you to get out with your dogs. At Vet Naturals, we love the idea of these outings, and we have all the pet wellness products to keep your dog exploring the dog-friendly venues that surround you.